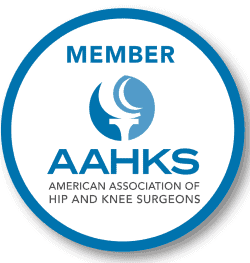 A native of Washington, D.C., Dr.Rosen received his B.S. degree from the University of Maryland and his M.D. degree from Mount Sinai School of Medicine. He completed residency training in orthopaedic surgery and internal medicine at Emory University in Atlanta, GA. Dr. Rosen is a member of the American Medical Association, the Orange County Medical Society, the American Academy of Orthopaedic Surgeons and the Robert P. Kelly Orthopaedic Society. He is a member of the American Association of Hip and Knee Surgeons, a select group of orthopaedists from across the United States dedicated to the progress and innovations in the care of hip and knee arthritis.
Outside of Dr. Rosen's professional career he enjoys kayaking, snow skiing and jogging. He is a violinist in the Maitland Symphony Orchestra where he has continued his passion for music. He and his wife have lived in Central Florida for 30 years and have four children. Dr. Rosen was a volunteer team physician for the Trinity Prep athletic program while his children were attending school.
Dr. Rosen is on active staff at Orlando Regional Healthcare System and is credited with bringing outpatient joint replacement to the Orlando Orthopaedic Outpatient Surgery Center. He maintains special interests and additional training in the areas of joint replacement and sports medicine. Dr. Rosen frequently lectures and presents to physicians, as well as other healthcare professionals. In the expanding world of hip and knee prostheses, he remains at the forefront in the field of minimally invasive hip and knee procedures.
Written Testimonials
"I had my first surgery with Dr. Rosen about three and a half years ago when he did a complete knee replacement on my right knee. Then, a few months ago, he did a complete replacement on my left knee as well. Both surgeries have improved my life dramatically; and I'm so thankful to Dr. Rosen and his entire staff.
I put off having the second knee surgery for various reasons, but I wound up on a cane and my quality of life was diminishing. I was afraid I would wind up in a wheelchair as I grew older. But what really inspired me to have the surgery was when a sweetheart of mine from 50 years ago called me out of the blue five months ago and invited me to go dancing. We danced our entire courtship in college, but I knew I couldn't dance in the condition I was in; so, I went and had it done. Today I continue to improve and I'm excited to say we're going to have our dancing date soon!
Dr. Rosen is an exceptional person and surgeon; he's very efficient and was a pleasure to be around. He takes time with you and talks directly to you, which is a nice change from most doctors. He'll tell you exactly what your situation is and what your prospects are, pro and con." – Dee
Physician Team Information
Mitra Amirzadeh, Patient Care Coordinator
Teresa Hoffman, Patient Care Assistant
Direct Phone: (407) 254-2548
Email: TeamRosen@orlandoortho.com