Gary Schubert has dealt with some form of hip pain longer than he cares to remember.
Ten years ago, the pain was so bad it drove him to have his left hip replaced in Omaha, Nebraska, his former home. Earlier this year, the chronic pain in his other hip became so severe he had no choice but to reach out again for help. This time, however, he chose Orlando Orthopaedic Center's Eric G. Bonenberger, M.D., a fellowship-trained orthopaedic surgeon specializing in knee, hip and shoulder surgery.
The difference between the two procedures has been night and day according to Gary, and not just because of advances in technology.
"I had the posterior hip replacement in Omaha," he says. "It's incredible how long it took to heal and the restrictions I have on the hip in comparison to the new one."
He goes on to say that Dr. Bonenberger, as well as the administrative and physical therapy staff, have been nothing but a pleasure to work with.
"The office is just great to deal with, and I've never had one problem," he says. "The job they have done with the recovery process is second to none."
What is an Anterior Approach Total Hip Replacement?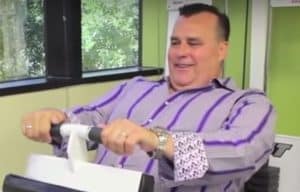 An anterior (front) total hip replacement is a minimally invasive hip replacement procedure resulting in faster recovery times, less pain and a greater range of motion following surgery than traditional, posterior total hip replacement.
When Gary had his first hip replaced 10 years ago, the posterior process was used; but with Dr. Bonenberger, he used the new, tissue-sparing anterior approach.
"With the anterior approach, we make a small incision on the front of the hip, as opposed to the back with the posterior approach," says Dr. Bonenberger. "This smaller incision spares most of the muscle and tissue surrounding the joint."
Once the incision is made, Dr. Bonenberger uses precision instruments to remove the damaged cartilage and bone. After the joint has been cleaned and prepped, a prosthetic joint is implanted.
"The prosthetic socket is inserted into the pelvic bone, and the round top of the femur is replaced with a prosthetic ball that is attached to a stem that fits into the thigh bone," says Dr. Bonenberger. "After the prosthetic is in place, we test the joint and close the incision." By keeping muscle intact, patients are able to walk sooner and, in many cases, experience same day, next day discharge. Once home, patients report less pain and, because the buttocks muscles are spared, there is little to no chance of "hip limp" following surgery.
"The anterior approach results in far less fear of dislocation, so patients are able to return to many of the activities they would have been restricted from using the posterior approach," adds Dr. Bonenberger.
An anterior hip replacement is typically suggested for patients who:
Have a normal weight
Have not had a hip replacement in that hip before
Are free of severe deformity
What is the Recovery Process for an Anterior Hip Replacement?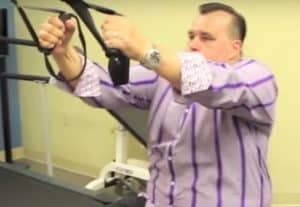 Following surgery, a patient will typically experience same day, next day discharge. While there, they are encouraged to sit up and walk as soon as possible after surgery. Patients will start physical therapy to strengthen the muscles, improve mobility and increase range of motion as well.
Patients soon begin to increase their walking and weight-bearing exercises starting with a walking aid before graduating to walking on their own. Typically, patients are able to return to work within a few weeks and are usually completely healed in four to eight weeks.
"The quickness of recovery has been astounding and has allowed me to get back fully to work within 5 weeks virtually pain-free," exclaims Gary. "I even played some tennis last weekend."
What are the Results of an Anterior Hip Replacement?
Within two to three weeks, a patient should be able to begin returning to their normal activities. They should also experience a minimal amount of pain and avoid activity restrictions.
Just five weeks after his procedure, Gary is back to doing what he loves.
"I've been able to ride my bike, I've been able to go swimming, I've been able to do weight lifting  — some of the things I really enjoyed prior to the hip replacement," he says. "I've been extremely happy with the kind of job Dr. Bonenberger and his staff have done here and I feel more than happy to be able to recommend them to anyone and everyone that I would come in contact with experiencing chronic hip pain."
MOST PEOPLE ARE CANDIDATES FOR SAME-DAY / NEXT DAY DISCHARGE