Before his minimally invasive anterior cervical discectomy and fusion surgery, Keith was only getting about four hours of sleep each night before waking up with pain running down his arm and his back. "I couldn't gain any muscle strength in my left arm…none," he says. "I was tired of living with pain."
After visiting several orthopaedic spine surgeons and neurosurgeons, Keith decided Stephen R. Goll, M.D., a board-certified orthopaedic spine surgeon at Orlando Orthopaedic Center, was his best hope for relief.
"It got to the point where I had to do something, and Dr. Goll was the most competent surgeon that I talked to….and I never imagined it would be as good as it is. No pain at all."
Anterior cervical discectomy and fusion surgery involves removing a damaged disc to relieve spinal cord or nerve root pressure and alleviate associated pain, weakness, numbness and tingling. The minimally invasive surgery is becoming an increasingly popular option for patients with persistent back and/or arm pain unresponsive to nonsurgical treatment.
"Dr. Goll is the guy to do it with," Keith says enthusiastically. "He literally made us feel like we were part of the decision…He explained everything to us and talks to you just like you're a normal person."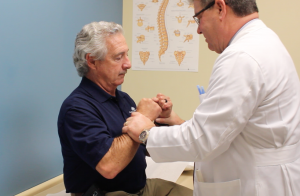 Candidates for the anterior cervical discectomy and fusion surgery tend to complain of chronic neck or arm pain, though this is not enough to qualify for the surgery. When all conservative, nonsurgical treatment methods have failed, the procedure is often recommended:
To treat a herniated disc or spinal stenosis

Instability from rheumatoid arthritis and spinal deformities

To stabilize the neck and prevent instability following a fracture

To correct vertebral misalignment
During the surgery, the orthopaedic spine surgeon accesses the disk through the front of the cervical spine, removing it from between the vertebral bones. At the same time, the fusion is done to help stabilize the cervical segment.
What Patients Can Expect Following Anterior Cervical Discectomy and Fusion Surgery
For most patients, anterior cervical fusion discectomy and fusion surgery successfully relieves arm and neck pain. In Keith's case, he says his quality of life has improved substantially since the surgery. "I'm sleeping 8 to 9 hours without waking up at all," he says. "Just like I was in my 20's, it's amazing."
Recovery time after leaving the hospital following a cervical fusion tends to last between four and six weeks, although this window can vary widely. Some patients are fitted with a neck brace to help avoid unsafe neck movement. When patients feel strong enough, they can begin physical therapy, which typically lasts between two and three months.