Join us on Wednesday, March 24, at 6 p.m. for a Facebook Live Q&A session about back pain and the various treatment options available.
From chiropractic care to minimally invasive spine surgery, our experts will be answering your acute and chronic pain questions starting at 6 p.m. on the Orlando Orthopaedic Center Facebook page.
Email Marketing@OrlandoOrtho.com anytime before the event to help ensure your questions are answered during the broadcast.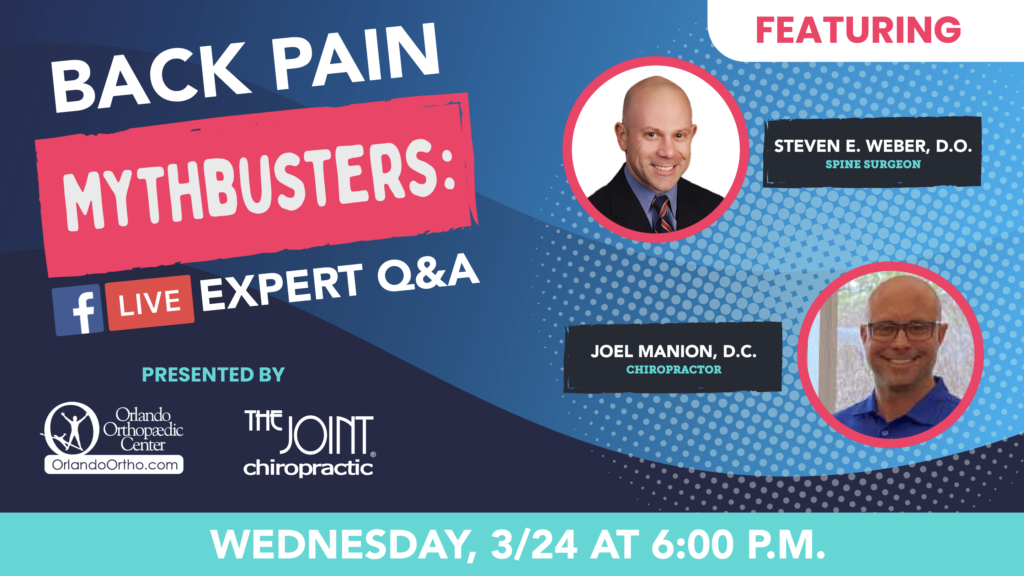 About Dr. Weber
A native of Michigan, Steven E. Weber, D.O., attended the University of Michigan in Ann Arbor, MI, where he received a B.S. degree in biology. He earned his osteopathic medical degree from Michigan State University, College of Osteopathic Medicine in East Lansing, MI. He remained there to complete his internship and orthopaedic residency at Michigan State University.
Following his residency, Dr. Weber completed a reconstructive spinal surgery fellowship with the University of Florida, in Gainesville, Florida. While also at the University of Florida, he served as an associate clinical instructor in the Department of Orthopaedics & Rehabilitation. He has been published within the field of orthopaedics and has presented his research at several national orthopaedic meetings, including the American Osteopathic Academy of Orthopaedics.
Dr. Weber specializes in spinal reconstruction, minimally invasive spinal techniques, and general orthopaedic surgery.
About Dr. Manion
Joel Manion, DC, MS, CSCS, joined The Joint Chiropractic team of holistic healthcare providers in 2019 with his arrival to LG Chiropractic Group, where he serves as the Director of Operations and Chiropractic Services. A graduate of the University of Florida with a bachelor's of science in exercise physiology, Dr. Joel received his doctorate of chiropractic from Logan University College of Chiropractic in Chesterfield, Mo.
In addition to his role with The Joint, Dr. Joel serves as adjunct faculty at Palmer College of Chiropractic in Port Orange. A product of Orange Park, Dr. Joel worked previously in Peoria, Ill., as well as Fort Lauderdale, Palm Beach Gardens, Miami, and Jacksonville.