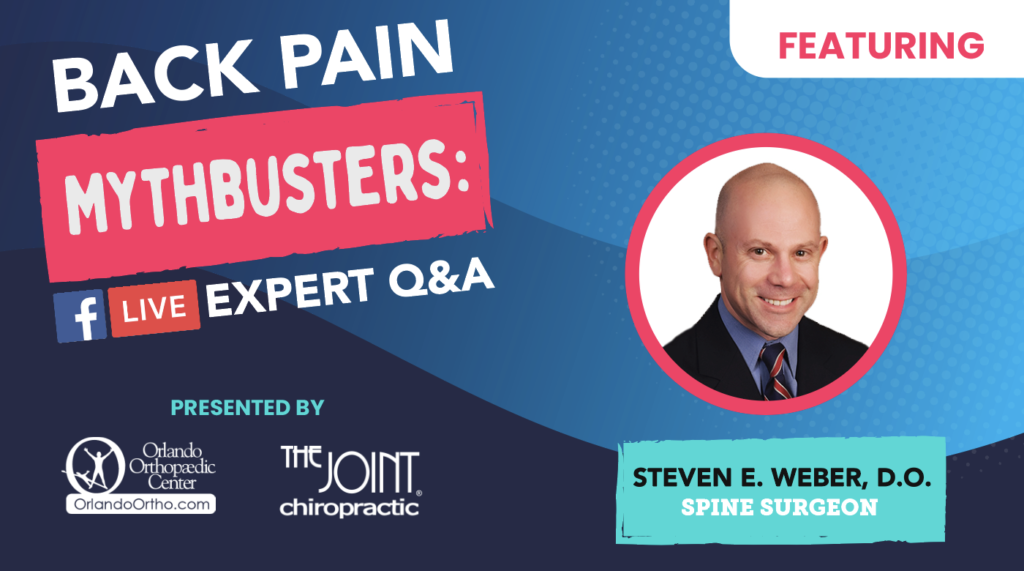 Steven E. Weber, D.O., board-certified orthopaedic surgeon specializing in spine surgery at Orlando Orthopaedic Center took time to bust some common myths about back pain during a Facebook Live Q&A event.
Questions were submitted by patients who wanted expert information about their chronic and acute back pain and the treatment, therapy, and surgery used to treat it.
Below you'll find a handful of the questions and answers from Dr. Weber. 
If you have additional questions not answered here, please schedule your appointment here.
Dr. Weber explains when someone should consider spine surgery. For example, if you're experiencing back pain, and depending on what your anatomy shows, surgery isn't always the answer. However, if you have any deformities in your spine, it may be beneficial to explore surgical options to relieve the pain.
In this video, Dr. Weber explains when someone should be concerned about spine surgery. Aside from normal risks associated with any surgery, spine surgery deals with the nervous system and surgery may lead to permanent nerve damage, an uncommon outcome but potential risk.
Dr. Weber explains what restrictions someone may have after spine surgery, and that patients must refrain from bending or twisting along with other activities that do not allow the spine to completely heal.
Dr. Weber explains in this video what options are available for maintaining strength and mobility in the back. Whereas there are medications that relieve back pain and provide better mobility, exercises are best for maintaining back strength and mobility.
In this video, Dr. Weber explains if knee pain and back pain are related. It's possible that a changed gait from knee pain could cause back pain, for example. But sometimes it's hard to tell the exact source of the pain.
Dr. Weber explains how to determine where lower back pain is coming from the hip or the spine in this video. It's a hard diagnosis to make, but typically true hip pain presents itself in the front in the groin and thigh. If the pain is coming from the buttocks, it's not entirely hip related although it could be a contributing factor.
In this video, Dr. Weber explains what a patient should do when preparing to have surgery. Aside from standard preoperative checklists a doctor may give patients, it's important in the months preceding any surgery to get into healthier shape. That could be getting sugars in check if you're a diabetic or adding an exercise routine to your daily life.
Dr. Weber explains what a disc extrusion is and that it can be treated with therapy and even surgery if necessary.
In this video, Dr. Weber explains if a referral is needed for insurance to cover appointments. It depends on the specific insurance company and policy, but referrals are usually needed to see an orthopaedic specialist. There are self-pay and cash-pay options available, if the patient chooses.