Serious neck discomfort, injuries and complications can be debilitating and seriously hinder one's ability to enjoy all life has to offer. Just ask Bob, a recent patient of Stephen R. Goll, M.D., at Orlando Orthopaedic Center. He had been battling neck pain for a long time and he began losing strength in his left arm.
After Dr. Goll requested an MRI, Bob found out he had two herniated discs in his cervical spine. Together, Dr. Goll and Bob discussed treatment options and the pros and cons to each.
"I was very pleased with his mannerisms," Bob says. "How he explained certain things to me, my options, I just felt very very comfortable. He has a great bedside manner; he says it like it is and doesn't sugar coat anything."
When nonsurgical treatment, such as physical therapy and epidural injections proved unsuccessful, Dr. Goll and Bob began to explore the possibility of surgery. Together, they decided cervical fusion surgery was Bob's best option to relieve his pain and get him back to where he wanted to be.
"I am so happy to be pain-free. The most beneficial and successful part of the surgery is that I can now actually sleep at night," Bob says. "Prior to the surgery, I'd put my head on the pillow, and I was in such pain, it was unbelievable. On top of that, I started losing strength in my left arm, and it started to limit some of the things I could do for work."
What is Cervical Fusion Surgery?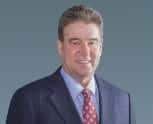 During cervical fusion surgery, damaged portions of the neck (cervical) area of the spine are joined together. The procedure is normally needed when the discs between each vertebrae of the neck have been damaged from an injury or long term wear and tear. The surgeon will remove (take out) the discs, or disc fragments between the vertebrae, to relieve pressure on one or more nerve roots, or on the spinal cord, and will encourage bone growth in order to link adjacent vertebrae together.
A metal plate or screw is often used to temporarily stabilize the fusion until the bones permanently fuse together.
How Long Will it Take to Recover from a Cervical Fusion?
Everyone heals at a different rate and the speed at which a patient will recover depends on several factors, including:
General level of health
Overall physical fitness
Mental attitude
Use of tobacco
Recovery time for most patients generally lasts four to six weeks. On follow up visits, the patient will undergo examinations and have X-rays taken, to make sure that fusion is occurring and that the bone has healed through the fused vertebrae.
The fusion process generally takes two to three months. Surgeons may provide their patients with neck stretches and/or strengthening exercises once the neck has fully healed. The doctor will determine when the patient is able to return to work.
"In most cases, cervical fusion only involves a one night stay in the hospital, with patients able to go home the morning after the surgery," says Dr. Goll, a board certified orthopaedic surgeon, specializing in spine surgeries and spinal disorders of the back and neck. "The surgeon may want their patient to wear a cervical collar or brace to help immobilize the neck for a period of time, to let that fusion start to heal."
"Since the surgery, I'm 100% pain free," Bob continues. "I'm very pleased with the results. My [general practitioner] recommended Dr. Goll, and I'm so pleased that he did because it worked out so so well."
What are the Results of Cervical Fusion Surgery?
Following surgery and recovery, a vast majority of patients report pain reduction in the neck and arm, improvements in neurological activity, and a fast return to normal functioning. Research has shown that cervical fusion surgery is successful in alleviating arm pain in ninety-two percent of patients, and neck pain relieved in 73 to 83 percent of patients.
With a successful cervical fusion surgery, Bob is thankful for being pain-free and for a new lease on life.
"I would absolutely recommend Dr. Goll to anyone suffering with neck or lower back pain," he says. "His skills are phenomenal, his follow up is excellent, and his staff is superb."