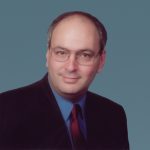 Lawrence S. Halperin, M.D., was featured in an extended profile piece in the October 2016 edition of Orlando Medical News.
In the profile, Dr. Halperin discusses why he went into medicine, why he chose orthopaedics as his subspecialty and his recent appointment to the American Academy of Orthopaedic Surgeons (AAOS) Board of Councilors.
"I got to scrub in with some surgeons and assist them and only a surgeon would sort of get this, but once I had been in the operating room and saw how it works, I knew I wanted to be a surgeon," says Halperin.