How Is Lumbar Decompression and Fusion Surgery Performed?
Scott S. suffered for years with chronic back and leg pain. He tried conventional and non-conventional therapies, but nothing could alleviate the constant discomfort he felt, especially when walking or standing.
"I had years of therapy – chiropractic, epidural injections, acupuncture, you name it," Scott says. "I couldn't get my legs to relax. My body was speaking for itself, and I couldn't have felt any worse."
After receiving several doctors' recommendations for Stephen R. Goll, M.D., a board certified orthopaedic spine surgeon at Orlando Orthopaedic Center, Scott scheduled an appointment to evaluate his situation and discuss his treatment options. "I've been very pleased not just with Dr. Goll, but with his staff, his team, the follow-up and the thoroughness," says Scott.
"Before surgery, right after they took my X-rays, Dr. Goll sat down with me and explained them in detail. His office was incredibly busy that day, but he spent at least 30-minutes with me and made me feel like I was the only patient there."
He continues, "The thing I really appreciated is that Dr. Goll talked to me as a person. Not once did he try to pressure me or scare me with doom and gloom if I did this or didn't do that. He doesn't try to hype anything up; he doesn't make false promises. He simply showed me how he would make the corrections in surgery. I was totally impressed."
Scott's decision to opt for minimally invasive lumbar decompression and fusion surgery paid off instantly.
"I'm feeling a lot better; the first thing I noticed immediately was the pain in my calves was gone," says Scott. "I could finally walk again."
What Is Minimally Invasive Lumbar Decompression and Fusion Surgery?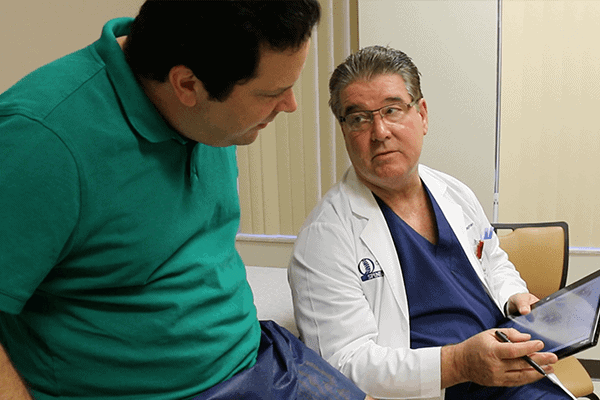 Lumbar decompression and fusion is a surgical procedure to alleviate pressure on the spinal cord or on one or more of the compressed nerve roots that pass through the spinal canal. The traditional method of performing spine fusion surgery has been to use longer incisions to allow the surgeon an expanded view of the spinal column.
"Recent technological innovations have transformed lumbar fusion surgery. Using specialized, state-of-the-art instruments, we are able to operate using tiny tubes through minimally invasive incisions. This new, leading edge fusion procedure promotes improved fusion rates, shorter hospital stays, and faster recovery times," says Dr. Goll. "The minimally-invasive procedure prevents significant injury and trauma to the soft tissues around the spine, producing less scarring, and decreased discomfort after surgery for patients."
Scott particularly appreciated the time and care Dr. Goll displayed leading up to surgery. "You can feel his sincerity," Scott says. "Dr. Goll has a great bedside manner. You're not just another number; and he doesn't rush you through the process."
What Should I Expect For Recovery After Lumbar Decompression and Fusion Surgery?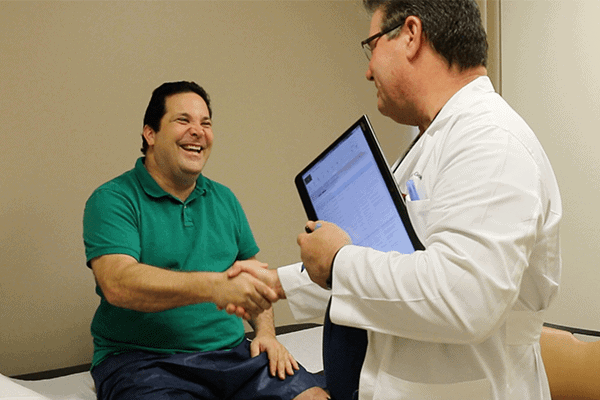 Many patients experience significant improvement of their symptoms after surgery and can get back to their routine and activities in just a few weeks. Combined with a qualified physical therapy and rehabilitation program, complete recovery typically lasts around six weeks.
After his successful lumbar decompression and fusion surgery, Scott is grateful for the role Dr. Goll played in getting him back to living pain-free and wholeheartedly recommends him to anyone needing spine surgery.
"Be patient, do your due diligence," Scott says. "But Dr. Goll has a proven track record. To me, he is number one and someone who I have a great deal of respect for and appreciate."