Robert had suffered from a host of back and spinal conditions since he was a young adult. After 35 years of debilitating chronic back pain, he was having trouble getting to the office and could barely function once he got home. In search of relief, Robert turned to Steven E. Weber, D.O., a board certified orthopaedic surgeon specializing in minimally invasive spine surgery at the Orlando Orthopaedic Center.
"I would say my life now is exactly as it was before I ever had any back pain," says Robert. "It was phenomenal to me – I knew it would help, I had hoped it would help, but I never believed I would be 100% pain-free."
Before deciding to undergo lumbar interbody fusion surgery with Dr. Weber, Robert tried non-surgical methods without success. "I had suffered from back pain, degenerative disease, and sciatica since my twenties," says Robert.
"For the past 35 years or so, I was pretty much in constant pain. I had spinal injections. They would last for a couple of days. The injections wouldn't get rid of the pain, but they would make it a little more bearable."
"Then the effect (of the injections) would wear off, and I could barely get to work. I'd come home, and I would have to prop myself in a certain angle just until I could go to sleep and try to deal with the pain. And when your back hurts, as people who have back pain know, it affects everything."
What is Lumbar Interbody Fusion Surgery?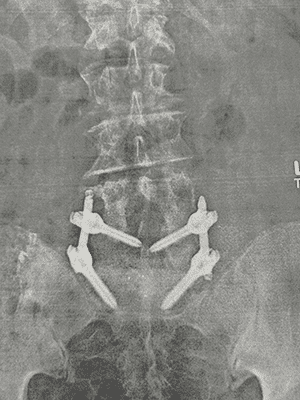 The surgical procedure that finally liberated Robert from his pain was a posterior lumbar interbody fusion (PLIF). The surgery is performed to treat an array of back problems including:
PLIF is aimed at stopping the motion between two spinal vertebrae causing pain. It is typically performed around the L4-L5 or L5-S1 area at the lower base of the spine. A bone graft is inserted between two vertebrae, and custom-made screws, rods and spacers, or cages, may be used to stabilize the spine and allow the vertebrae to heal and fuse together.
Traditionally, interbody fusion was performed as open surgery requiring larger incisions and the need to cut through whole muscle tissue to enable the surgeon to access the spine. By contrast, minimally-invasive interbody fusion employs a tiny tube which is threaded through the muscle fibers with a smaller surgical incision. Specially-designed surgical tools are then used to complete the surgery via the tube, averting scarring and muscle damage.
Minimally-invasive interbody fusion surgery promotes:
Less tissue retraction

Decreased blood loss and pain

Enhanced fusion

Reduced hospital stays
What is Recovery Like Following Interbody Fusion Surgery?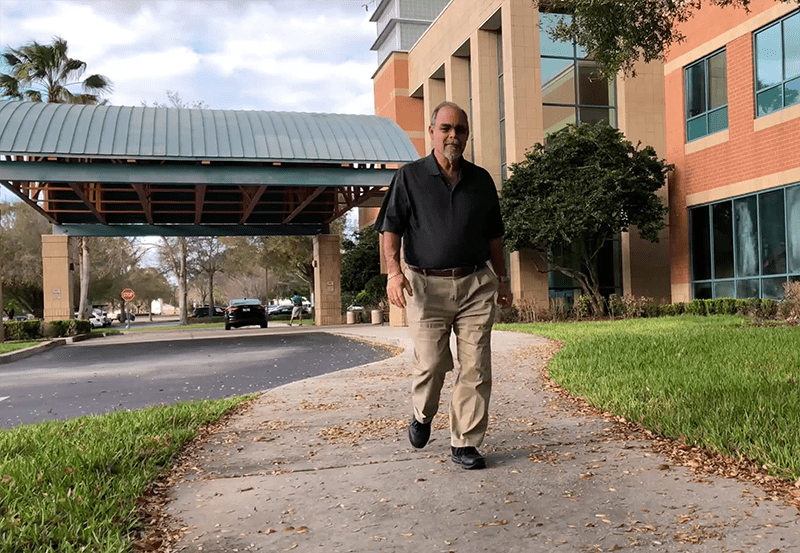 Following surgery, patients embark on a physical therapy program to allow them to get back to their usual routine as quickly and safely as possible. The majority of patients can return to regular functioning within three weeks and achieve a complete recovery within six weeks after the procedure.
"Within three weeks, I was able to return to work," says Robert. "I thought I would be out a month. I wore my brace, and I was feeling so good, I did things I probably shouldn't have done."
Robert was particularly touched by the consideration shown to him by Dr. Weber and the commitment the physician showed to restoring his well being. "Dr. Weber cared about the quality of my life," he says. "After the procedures, we saw him in the elevator and I told him, 'Dr. Weber, I don't care where I am (located) geographically if I ever have to come for surgery again, I'm going to come here and have you do it.'"
After his successful lumbar interbody fusion, Robert is grateful for all that Dr. Weber did to enable him to transcend his debilitating pain. "Dr. Weber was doing what he felt would be the best thing that I needed," says Robert. "I put my faith in him, and I'm so glad I did. He's a very gifted surgeon and healer. I believe that the body has an innate ability to heal itself, and he allowed me to be in a position where my body could do that."