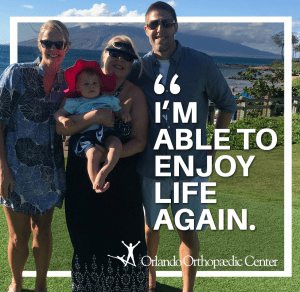 Thanks to minimally invasive sacroiliac (SI) fusion surgery, Marcia is now free from chronic pain and can walk and travel comfortably again.
"Before surgery, I wasn't able to do normal things like go to the movies, go out to eat, or go to plays," says Marcia. "I couldn't sit comfortably for any period of time, and I couldn't drive very far to see family or travel. It was a daily dilemma for me to deal with the pain and discomfort of my SI joint."
What is SI Joint Fusion Surgery?
Sacroiliac joint fusion surgery may be recommended to treat SI joint pain when nonsurgical treatments are ineffective. The SI joint links the iliac bones of the pelvis to the sacrum, which is the lowest part of the spine above the tailbone. The SI area serves as a shock absorber to prevent impact forces during walking from reaching the spine and creating pain.
In SI fusion surgery, a bone graft and instruments are used to promote bone growth over the sacroiliac joint and create one immobile unit. Joint fusion can effectively decrease pain and instability caused by SI joint dysfunction or inflammation. SI joint fusion surgery is accomplished using a state-of-the-art implant system designed to stabilize and fuse the SI joint.
As many as 29% of adults in the United States have lower back pain (roughly 68 million people), and research suggests that SI joint pain could represent up to 15% of all patients seen in outpatient clinics with chronic lower back pain.
When her pain became debilitating to the point where she had to forgo family visits and social outings, Marcia turned to G. Grady McBride, M.D., a board-certified orthopaedic spine surgeon at Orlando Orthopaedic Center specializing in minimally-invasive spine surgery.
"I chose to have SI joint fusion with Dr. McBride," says Marcia. "It was an excellent same-day procedure that I benefited from tremendously. I went home from the hospital that day, and over about four to eight weeks, I continued to improve daily."
When Is Sacroiliac Joint Fusion an Option?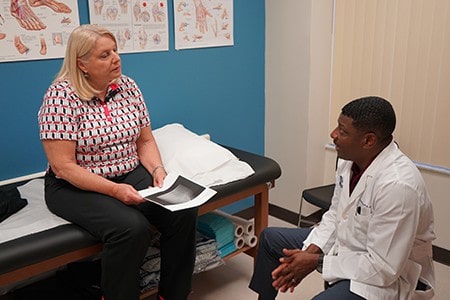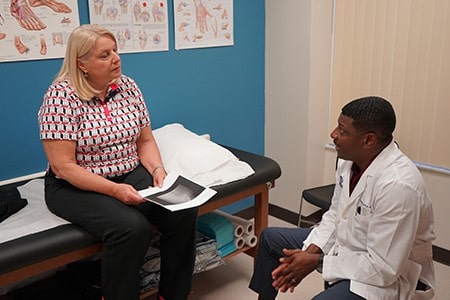 When the following symptoms persist for several weeks or months and do not respond to nonsurgical treatment, sacroiliac joint fusion may be recommended:
Significant low back, hip, or groin pain that makes it difficult to function in everyday life
Instability in the pelvis and lower back, which may cause pain when standing, walking, climbing stairs, or moving from sitting to standing
Stiffness and limited mobility in the low back, hips, groin or legs
Exacerbated pain after sitting, lying or standing for long periods
After Marcia consulted with Dr. McBride, she knew that he was the right surgeon for her. "When I met Dr. McBride, I was impressed by his experience and also his education on new techniques and minimally invasive techniques in particular," she says.
"These benefit the patient because the recovery time is quicker, and I was looking for that type of surgeon. I thought his team did a fantastic job. They made me feel comfortable. They told me exactly what to expect so that I could plan accordingly. And Dr. McBride's Physician Assistant, Emanuel King, followed me post-op, and every interaction with him was excellent."
How SI Joint Fusion Surgery Performed?
SI joint fusion is performed by inserting small titanium implants across the SI joint to maximize stability and weight-bearing capability. The entire procedure is performed through a small incision and is typically completed in under an hour.
Surgeons use a specially-designed system to guide the instruments that prepare the bone and insert the implants. Once the incision (typically 2-3 centimeters long) is made, the physician will use fluoroscopic guidance to place the implants and fuse the SI joint.
Spine Center Advantages
Because our spine surgeons use the latest minimally invasive technology, patients experience several distinct benefits when choosing the Spine Center at Orlando Orthopaedic Center, including:
Faster recovery times
Reduced pain and trauma because as much muscle and tissue is spared as possible
Outpatient surgery for select procedures (meaning patients can go home the same day without a costly overnight hospitalization)
Recovering from SI Joint Fusion
According to Dr. McBride, the majority of patients resume most of their daily tasks within six to eight weeks. There may be some limitation on more strenuous activities, including returning to work for three to four months depending on postsurgical progress and occupation.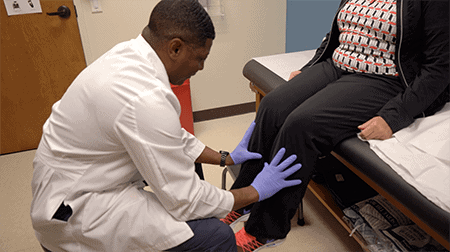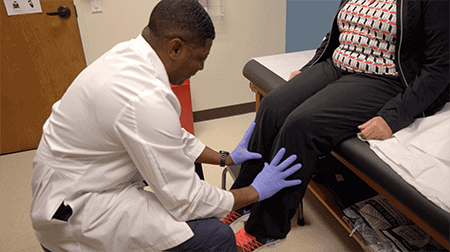 Existing medical studies confirm the long-term success rate for SI fusion surgery at around 70 percent. Marcia's experience mirrored Dr. McBride's prognosis. "By eight weeks, I was able to travel," says Marcia. "I took a long trip to Hawaii to see my family. And it was something that I would strongly recommend for anybody that is dealing with SI joint problems."
Grateful for getting her life back and living pain-free, Marcia recommends SI fusion surgery for anyone suffering from what she went through. "Now that I am 12 weeks post-op and feeling good again, I would encourage anybody who is having problems with their SI joint to see Dr. McBride and be evaluated," she says.
"Get whatever scans are needed and think about having this minimally invasive procedure done because the difference is dramatic. Your quality of life will improve dramatically. I'm able to travel and enjoy life again, and I attribute it to having this surgery with Dr. McBride and his team."