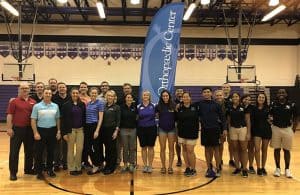 For more than five years, the Orlando Orthopaedic Center Foundation has partnered with UCF athletic training students to provide annual sports physicals for local area high schools, club teams, and Seminole State College.
The Foundation offers the pre-participation examinations to student-athletes throughout Central Florida and donates 100% of the fees to each high school's athletic program. The sports physicals also give athletic training students an opportunity to work with "real world" patients and administer vision tests, height and weight measurements, blood pressure and pulse assessments, and musculoskeletal screenings.
"The Orlando Orthopaedic Center Foundation makes a huge impact in the community through their pre-participation examination days," says Kristen Schellhase, director of UCF's Athletic Training Program.  "Because of their generosity in giving back to the school's athletic program, athletic trainers can purchase critically important supplies like an AED (automated external defibrillator) or basic supplies like tape and Band-Aids."
"The athletic training program allows the students to take their skill sets and apply their knowledge through direct interaction," says Andy Reber, sports medicine outreach coordinator at Orlando Orthopaedic Center. "Patient care very early on gives them the opportunity to use those skills and acquire real-life experience."
UCF students also have benefited from scholarships provided by the Foundation to further their studies, and continuing education opportunities are provided to athletic trainers twice a year.