Daryl was experiencing chronic neck and back pain for longer than he can remember. One day while trying to get dressed and going through an immense amount of pain, he decided it was time to seek relief. That's when he turned to Stephen R. Goll, M.D., a board certified orthopaedic spine surgeon at Orlando Orthopaedic Center.
Two months after surgery, Daryl has relief for chronic neck and back pain and is back to doing things he hadn't done in years – all with no pain and a full range of motion. "I feel better than I ever have," says Daryl. "I'm back to normal, and physically capable of doing anything I did before. I have full mobility and no longer have any restrictions."
When conservative methods failed to provide relief for his pain, Daryl and Dr. Goll determined his best option would be to undergo minimally invasive cervical fusion surgery followed by minimally invasive lumbar fusion surgery a few months later.
"I did everything from physical therapy and chiropractic treatments to pain medications," says Daryl. "I was hesitant like many people, but I finally decided to have the surgery after I was left with no other options and I am very glad I did."
What is Cervical Fusion Surgery?
Cervical fusion surgery is performed to permanently join selected bones in the cervical spine (neck) and eliminate the motion between them to improve stability, correct a deformity or reduce pain.
Cervical fusions are performed for a variety of reasons including:
Treatment for a herniated disc, spinal stenosis, rheumatoid arthritis and spinal deformities

To stabilize the neck and prevent a bone fracture following an injury  

Correction of vertebral misalignment

To restore vertebral stability due to long-term wear and tear
During cervical fusion surgery, damaged portions of the neck (cervical) area of the spine are joined together. Through an incision in the front or back of the neck, the spine surgeon removes the discs, or disc fragments between the vertebrae, to relieve pressure on the spinal cord. A bone-like material is placed between two spinal vertebrae and state-of-the-art metal plates, screws, and rods help hold the vertebrae intact. As they heal, the bones will permanently fuse together.
"I decided on Dr. Goll because he seemed to have the best solution for what I had as far as the lower back pain," says Daryl. "He did my neck first, and that was a great success, so I had no hesitation about doing the back surgery with him."
What is Lumbar Fusion Surgery?
Spine fusion surgery has been traditionally performed as open surgery, with the surgeon using larger incisions to view the spinal column. However, with modern breakthroughs and specially-designed instrumentation, the orthopaedic spine surgeon can operate through small tubes through minimally invasive incisions.
Rods, screws, a specially designed spacer, and a bone graft is implanted into the space between the affected vertebrae, allowing the bones to grow and fuse together over time.
This new fusion process allows for:
Better fusion rates

Shorter hospital stays

Quicker recovery times



With minimally invasive lumbar fusion surgery patients can expect to avoid significant injury and trauma to the spinal soft tissue around the spine as well as less scarring and decreased levels of discomfort after surgery than with the traditional approach to lumbar fusions.
"I wish I had done it a lot sooner," says Daryl. "It was the first time I've been free of pain for many years. It was very difficult to do anything. Even getting dressed was a major ordeal."
Recovery After Cervical and Lumbar Fusion Surgery
Each patient's rate of recovery is unique and will depend on several factors, including:
General level of health

Overall physical fitness

Mental attitude

Tobacco use
Recovery after cervical fusion surgery generally lasts four to six weeks. During that time, patients undergo examinations and have X-rays taken to ensure the fusion is taking place and the bones are healing properly. Complete fusion of the vertebrae in the neck typically takes two to three months.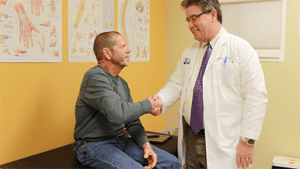 After both cervical and lumbar fusion surgery, it is vital to have a skilled and proficient medical team in one's corner to optimize the patient's journey to recovery. Physical therapy usually plays an integral role in the recovery process and surgeons may provide their patients with neck stretches and strengthening exercises once the neck has fully healed.
The day after his lumbar fusion surgery, Daryl was thrilled to be able to be on his feet. "I stayed in the hospital overnight, and the next day I was up and walking around," he says. "I was discharged that same day with no pain. I wished I had done it a lot sooner."
Daryl recovered from both cervical and lumbar fusion in less than one year and credits the care and support he received from Dr. Goll and his entire staff. "Dr. Goll's been great, the follow up was great," he says. "The staff, everyone has just been incredible. It's just been an awesome experience for me."
Following the success of his fusion surgeries, Daryl wholeheartedly recommends the procedures for anyone who is suffering as he did.  
"My advice to anyone suffering from chronic back pain is don't put it off," says Daryl. "Everyone is hesitant to do surgery, but I would recommend to go ahead and have surgery and be done with it. The results have been awesome, and I would recommend it to anybody."