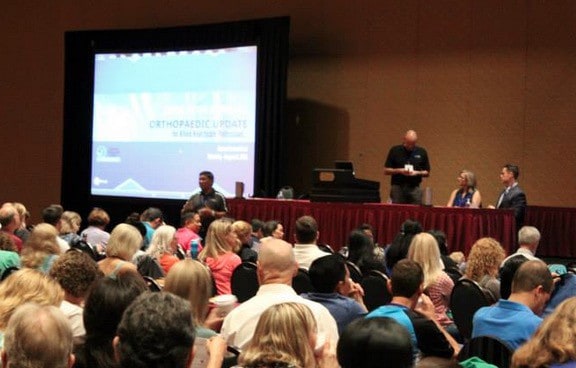 The Orlando Orthopaedic Center Foundation welcomed more than 550 attendees to the 2015 11th Annual Orthopaedic Update for Allied Healthcare Professions on Saturday, August 8, at the Rosen Centre Hotel. At the seminar, the 501(c)(3) Foundation also donated $2,500 to the UCF Student Physical Therapy Association (SPTA).
Thanks to the two annual seminars put on by the Foundation, both UCF's SPTA and Student Athletic Trainers' Organization (SATO) have been awarded more than $40,000 throughout the past eleven years.
The day featured lectures from leading physicians and area specialists as well as several panel discussions on the latest technology and surgical procedures used to treat orthopaedic conditions and injuries. Continuing Education Credits (CEUs) were offered to all healthcare professionals in attendance.
Additional proceeds from the day benefit the Orlando Orthopaedic Center Foundation and its three main initiatives: orthopaedic research, injury prevention in youth athletics and community education & outreach in Central Florida. To learn more about the Foundation, please click here.