Osteoarthritis is the most common joint disorder in the United States affecting an estimated 80 million people, most of whom are over 60 years of age.
Until now, treatment options for arthritis have focused on improving symptoms, reducing pain and inflammation, and improving function, but these methods have been unable to prevent the progression of the disease or reverse the process.
However, a game-changing treatment has emerged giving hope and promise for those suffering from osteoarthritis. "The exciting new field of regenerative medicine which includes, among other treatments, stem cell therapy, now allows us to offer our patients hope for long-term or permanent improvement," says Jeffrey P. Rosen, M.D., a board certified orthopaedic surgeon who specializes in hip and knee replacement surgery as well as nonsurgical treatment of hip and knee problems.
"At some point in the future, we are going to be looking at stem cells as a way to cure arthritis and to reverse arthritic changes."
What is Regenerative Medicine?
According to Dr. Rosen, regenerative medicine (RM) seeks to combine the power of stem cells with the body's own regenerative capacity to recover and replenish the makeup and function of injured tissues and organs.
"The goal of RM is to reestablish normal tissue in both structure and function," he says. "Clinical studies affirm the effectiveness of RM in treating patients with severe injuries or chronic disease where the body's own responses are not sufficient to restore the tissue to normal function. Moreover, no adverse side-effects have been reported with any of the FDA-approved treatment methods. "
While stem cell therapy has garnered much of the attention in RM, it remains only a part of the total picture. There exist many RM therapeutic methods that can be employed to achieve pain relief, enhanced function, and permanent structural improvement. These include Platelet Rich Plasma (PRP), and other enzymes within the patient's own body that can be harvested, concentrated, and then reinjected to damaged structures.
How Does Regenerative Medicine Work?
The beauty of stem cell treatment is that it does not need to rely on tissues from donors. In most cases, the patient's own stem cells are used in the treatment process to restore muscle, tendon, or joint function making the risk of rejection minimal.  In some instances, amniotic or umbilical tissues, obtained under strictly regulated FDA procurement and ethical guidelines, may be used in place of, or to add to, the patient's own stem cells.
"Stem cells do not change or replace the tissue of cartilage, but provide growth factors to jumpstart the body's own regenerative abilities and processes to create new tissue," says Dr. Rosen.
"Stem cells also contain factors that reverse enzymes in the joint that cause cartilage damage to prevent further erosion and promote new growth."
During a stem cell procedure, the surgeon will take a small amount of bone marrow (around 2 ounces), usually from the bones of the pelvis or knee. The process takes about five minutes. The bone marrow that was aspirated is then put through two cycles of centrifugation or cell separation. This concentrates all of the stem cells into about 5cc of thick fluid and takes about 20-30 minutes.
Once the stem cells are harvested and prepared, they are re-injected into the injured joint, tendon, or other source of pain or inflammation in the body using ultrasound-guided equipment.
"Stem cells are primitive cells that can differentiate into almost any tissue in the body," Dr. Rosen continues. "When they enter a damaged area, such as the knee or the hip, they initiate a process of cell repair and regeneration to induce and augment healing."
Other sources of stem cells include amniotic fluid and the umbilical cord — all high in growth factors and containing incredible regenerative properties — and their use is not limited to orthopaedic problems. Ongoing research has lead to advances in treating spinal cord injuries, Parkinson's, and stroke and cardiac disease. These tissues are typically discarded during childbirth and do not involve the use of fetal tissue.
Stem Cell Therapy in Action
Orlando Orthopaedic Center patient Thomas Pittman is a case in point. Despite having multiple surgeries on his meniscus, he had a hard time walking or doing activities that involved bearing weight on his left knee due to pain.
Thomas knew he wanted to avoid a knee replacement so he could continue to do the things he enjoyed most in life, like cycling. He opted for stem cell injections instead of a knee replacement so he could avoid another surgery on his already arthritic knee.
Several months after the procedure, Thomas says he is back to cycling regularly, walking miles around big cities for work and is satisfied with his decision to forego surgery in favor of stem cell therapy.

"The pain has not been noticeable. It has been a big change in my life, and I would highly recommend it," he says.
Regenerative Medicine Success Rates
Numerous clinical trials have shown positive outcomes for regenerative medicine patients, particularly those suffering from osteoarthritis of the hip and knee. The majority of patients in these studies have experienced significant pain reduction and enhanced quality of life.
"Our experience is that most patients will have significant relief of pain around one to two months after injection," says Dr. Rosen. "This will often continue to improve for the first three to six months after the stem cell procedure."
There have not been many long-term clinical outcome studies. Therefore, effectiveness down the road is still unknown.  At this point, we can't say this is a cure for arthritis. However, good results lasting several years are commonly reported, and ongoing research remains very promising.
Are You a Candidate for Regenerative Medicine?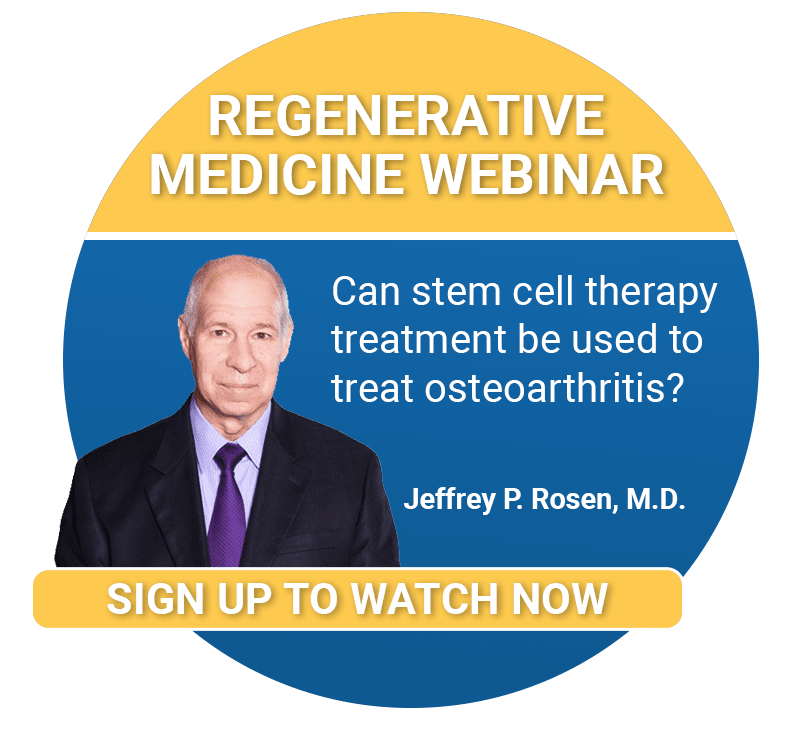 The decision to proceed with any of the available forms of treatment will depend on many factors and be individualized to each patient's unique situation.
The optimal results for RM occur when a patient's arthritis is mild to moderate. RM methods will not improve severe damage (bone on bone) or bone collapse in the joint.  Patients who are overweight will see less effective results because of excessive forces against the joint, and malnourished patients do not mount good healing responses.
RM is not recommended for people with multiple medical problems, cancer patients (as the growth factors can reach cancer cells), as well as for patients with an active infection.
Although insurance does not cover the treatment itself, diagnostic and second opinion visits may well be. RM treatments usually cost a fraction of the out-of-pocket expenses for joint replacement surgery, and they empower the patient to choose the treatment that they and their doctor feel is most appropriate without being dictated by someone behind a desk at an insurance company.
Regenerative Medicine at Orlando Orthopaedic Center
"What Orlando Orthopaedic Center offers that other 'stem cell clinics' don't is that, as orthopaedic surgeons, we can offer any surgical or non-surgical treatment for your arthritic joint," says Dr. Rosen. "In other words, if you're not a candidate for stem cell or regenerative medicine treatment, we'll let you know and not raise false hope or waste your money. That said, many patients have come to us anticipating joint replacement surgery, and instead have gained excellent responses from regenerative procedures."
Overall, regenerative medicine therapies represent an exciting and innovative alternative treatment for osteoarthritis.