Thanks to his minimally invasive lumbar fusion surgery with Stephen R. Goll, M.D., a board-certified spine surgeon at Orlando Orthopaedic Center specializing in minimally-invasive cervical and lumbar surgery, Simon has no back pain or tension.
"Since I've had the surgery, I feel more relief," says Simon. "I don't feel those sharp pains and tension in my back."
What is Minimally-Invasive Lumbar Interbody Fusion Surgery?
During lumbar interbody fusion surgery, two or more vertebrae in the lower back are fused together. A bone graft is inserted between the vertebrae to join them to one another, thereby creating a more robust and solid spine. Specially designed screws and rods may be employed to permit more effective integration of the spine.
In the past, spinal surgery was performed as open surgery with the surgeon creating a long incision across one's body to enable proper access to the spine. But current technological breakthroughs offer patients the opportunity to undergo minimally invasive procedures.
With minimally-invasive interbody fusion, a tiny tube is inserted through the skin until it makes contact with the spine. The surgeon then makes use of advanced surgical instruments to perform the complete procedure through the tube, thus avoiding a large opening and scar.
Patients benefit in a number of ways, including:
Reduced recovery time
Less pain
Shorter hospital stays
Increased range of motion
Smaller scars
Interbody fusion surgery is indicated for spinal conditions, including spinal stenosis, degenerative disc disease, serious spondylolisthesis, degenerative scoliosis, or nerve compression linked to low back pain.
"I had lumbar fusion surgery with Dr. Goll, and he was very highly recommended," says Simon. "I came to see him before the surgery, and he was very polite.  Dr. Goll showed me my x-rays and without pressuring me, said that it was up to me what kind of quality of life I wanted to live, either keep on band-aiding the problem or have my vertebrae fused and get much more relief. Therefore, I decided to have the surgery."
What are the Results of Minimally-Invasive Lumbar Interbody Fusion Surgery?
Studies indicate that patient pain is improved by 60% to 70% after lumbar interbody fusion surgery, and roughly 80% of patients are satisfied with the surgical result.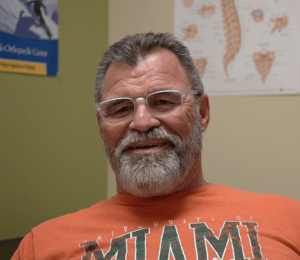 Exact recovery time in the hospital varies depending on every patient's unique circumstances, medical history, and the nature of the procedure. However, minimally-invasive lumbar interbody fusion surgery typically has superior results over traditional open surgery.
After spending the night of the surgery in the hospital, Simon was on his way home the next morning.
"I have gotten much more relief, and it's only been seven weeks since the surgery," says Simon. "So, it can only get better. I thought it would be so much worse. I've had surgeries in the past, but this surgery I had with Dr. Goll, I keep forgetting I even had it because I feel so good."
Grateful for being pain-free and regaining his quality of life, Simon wholeheartedly recommends Dr. Goll for anyone experiencing the same pain as him.
"(For) somebody that has the same pain I was experiencing, or even worse, I would recommend Dr. Goll for two reasons," he says. "Number one, because I'm delighted with the whole process. And two, as you get older, your body is going to get more arthritis and deteriorate. Therefore, the only solution, and I'm glad I made that decision, is to have fusion in my spine."
What Makes Orlando Orthopaedic Center's Spine Center Unique?
Orlando Orthopaedic Center's Spine Center utilizes a highly skilled multidisciplinary team of radiologists, anesthesiologists, physiatrists, physical therapists, and athletic trainers. Specialists at Orlando Orthopaedic Center educate patients about all of their options for treatments, empowering them to be involved in the decision of which treatment is best for them.
One hundred percent of the Spine Center's surgical practice is devoted exclusively to spine surgeries and caring for and treating patients with spinal disorders of the back and neck. The Spine Center offers a full range of treatment choices in addition to surgery. Patients are diagnosed by digital x-ray and magnetic resonance imaging (MRI) scans, as well as electromyography (EMG) studies to test the integrity and functionality of nerves.
After treatment, patients remain under the center's spine surgeons' care through physical therapy and pain management. The patient recovery plan emphasizes education in spinal pain and injury prevention, physical therapy, and rehabilitation, including exercises and bracing.
Orlando Orthopaedic Center's Spine Center is led by board-certified and fellowship-trained orthopaedic spine surgeons. Patients are treated in facilities featuring the latest technologies in prevention, diagnosis, treatment, and rehabilitation.
The surgeons' fellowships involved specialized training with leading orthopaedic spine surgeons and neurosurgeons in advanced spinal surgery techniques such as: