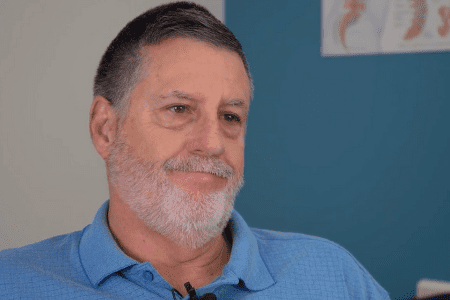 Knee replacement is one of the most common orthopaedic procedures in the United States with an incredibly high success rate. But in rare cases where there are complications, a knee revision surgery is required to replace the original implant. These surgeries are more complex, requiring a great deal of skill to achieve a successful outcome.
John F. is a patient of Obi O. Adigweme, M.D., board-certified, fellowship-trained orthopaedic surgeon at Orlando Orthopaedic Center. John came to Dr. Adigweme with pain in both knees. His left knee had undergone replacement surgery just a few months before, and it was still painful and unstable. His right knee was arthritic and needed to be replaced.
Today, John is pain-free and says, "I wish I had this done years ago." Here's the story of how Dr. Adigweme and his team turned John's life around.
Why Would You Need Knee Revision Surgery?
When John met with Dr. Adigweme, they found that the replacement surgery on his left knee had been unsuccessful. The implant was loose and unstable, resulting in substantial pain. It turns out that the original surgeon did not conduct the procedure from the front of the knee, but instead from the side. This meant that the original doctor was likely unable to adequately visualize the placement of the prosthetic knee.
The major reasons for revision surgery are infection, implant loosening, and instability. These complications are rare; however, they can become debilitating. Oftentimes, if the symptoms are significant enough, revision surgery is needed. During revision surgery, some or all the implants are removed and replaced. The surgery is more complex than the original knee replacement and often requires the expertise of a surgeon fellowship-trained in joint replacements.
After replacing the right knee and obtaining an excellent result, John and Dr. Adigweme decided to move forward with the more complex revision of the left knee. Instead of using the original lateral approach incision, the revision surgery was performed from the front. Dr. Adigweme says, "I believe going from the front is the most reliable. That's what 99% of surgeons do and that's for a good reason." There are thousands of peer-reviewed research articles proving the overwhelming success rate of a knee replacement from the front. There are no articles to show that the lateral approach is safe and effective. Patients should be interested in evidence-based medicine, per Dr. Adigweme.
Dr. Adigweme was very pleased with the results of both procedures. He says, "Within six to 12 weeks after his revision surgery, John was already almost as good as he was on the other side."
How Can Knee Revision Surgery Change Your Life?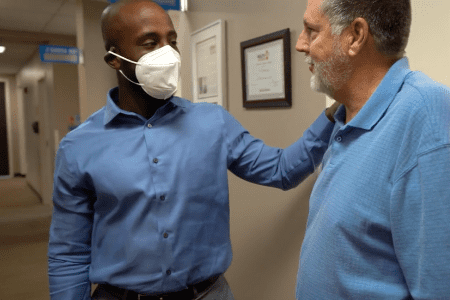 "Before the surgery I was miserable," John says. "I can even push the mower in the yard which I couldn't do before." He reports no problems going up and down stairs or even working on a kitchen remodel. He goes deer hunting and does a lot of walking—two or three miles is his new normal after surgery with Dr. Adigweme.
John is a living example of how high-quality orthopaedic surgery can change your life. He says, "The overall experience at Orlando Orthopaedic was excellent. Communication is excellent. The quality of the way they treat you is absolutely excellent." John also has high praise for Dr. Adigweme, sharing, "The man is good. He is a very good doctor."