If traditional approaches have left you with bothersome back or neck pain, turn to the fellowship trained spine surgeons of the Spine Center at Orlando Orthopaedic Center.
Our spine surgeons have more than 50 years of combined experience treating thousands of Central Florida residents, visitors and neighbors. Whether from down the street or three counties away, patients benefit from the advanced, minimally invasive cervical, thoracic and lumbar spine procedures performed at our facilities.
Thanks to in-house physical therapy, our spine surgeons are able to monitor patients' condition throughout the postoperative rehabilitation process, allowing for the most complete and comprehensive spine surgery care in Central Florida.
Common Conditions & Procedures
Chronic Back and Neck Pain Email Education Series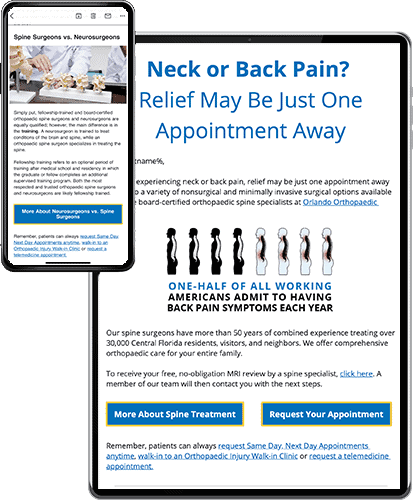 Get additional information about your chronic back and neck pain delivered right to your inbox.
Understanding Your Treatment Options Webinar On-Demand
The Difference Between Spine Surgeons & Neurosurgeons
Real Patients Share Their Back and Neck Success Stories
Free MRI Review
7 Benefits to Minimally Invasive Surgery
Orthopaedic Injury Walk-in Clinics