Orthopaedic Telemedicine Appointments
Orthopaedic telemedicine appointments are perfect to help patients treat joint aches, muscle pain, acute injuries and more when you can't make it to an office to schedule a same day, next day appointment or walk-in to one of our conveniently located Orthopaedic Injury Walk-in clinics. 
Orthopaedic telemedicine appointments are with the same orthopaedic specialists you would see by visiting one of our office

locations

Appointments can be made until

15-minutes prior

 to closing (

See hours

)

We accept insurance for telemedicine appointments or also offer a self-pay fee of $50 per appointment
For self-pay patients, if the appointment results in an in-person visit, the $50 self-pay fee will be applied toward any costs incurred during the in-person visit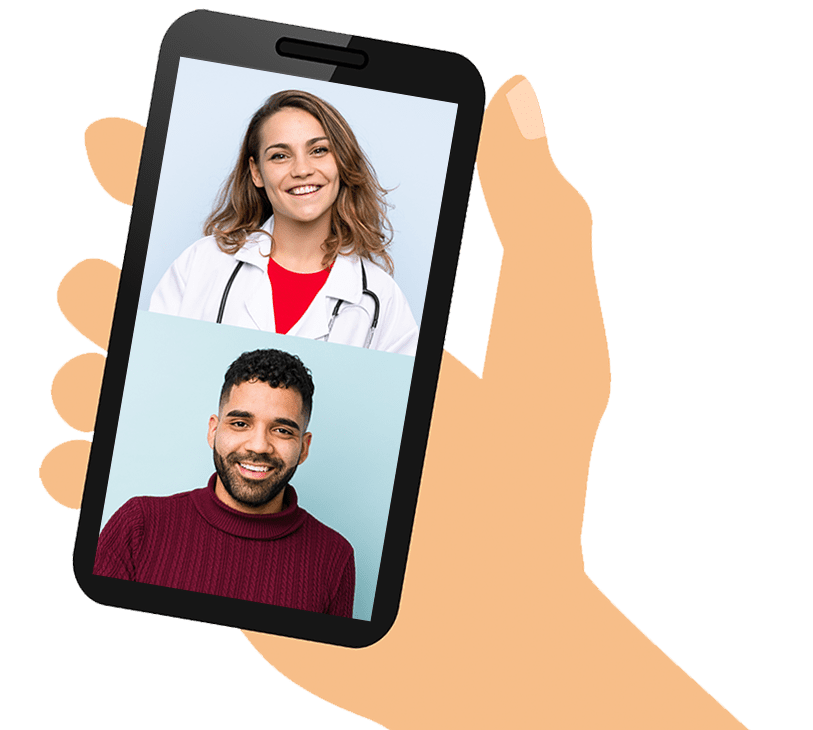 Getting Started with Orthopaedic Telemedicine Appointments
To schedule an orthopaedic telemedicine appointment, you must have a compatible iOS or Android mobile device.
Download the Ortholive app from the Apple App Store or Google Play Store by searching for "Ortholive" or clicking one of the links below.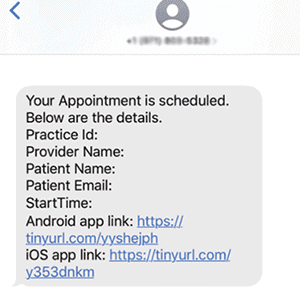 1. RECEIVE LINK
You will have received a text message and email with your appointment time and a link to download our app.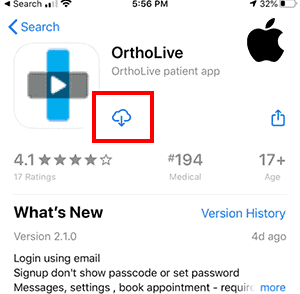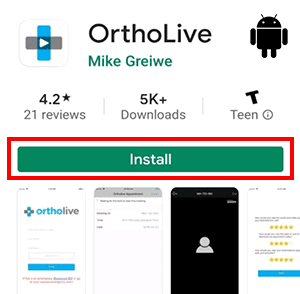 3. INSTALL APP
If you are prompted for an Apple ID password and do not remember it, please see the last page for how to obtain your Apple ID.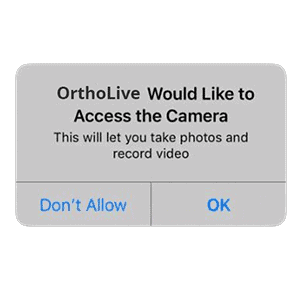 4. ALLOW CAMERA ACCESS
Upon opening the app you will be asked if you want to give access to your camera and microphone.
TAP ALLOW. IF YOU DO NOT ALLOW YOU WILL NOT BE ABLE TO SEE OR HEAR YOUR DOCTOR.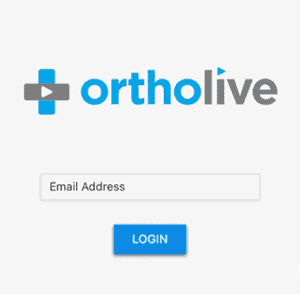 5. LOGIN
Input the correct email address listed in the text/email you received from no-reply@ortholive.com and 971-803-5328.
Press the blue login button.
(Please note that these are both no-reply automatically generated messages and you will not receive a response).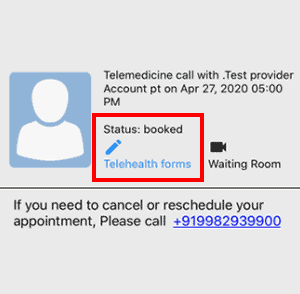 6. CONSENT TO FORMS
These are forms that state you are agreeing to a telemedicine call. Please read before consenting.
Once you have finished reading the forms you will check the 3 boxes and press AGREE.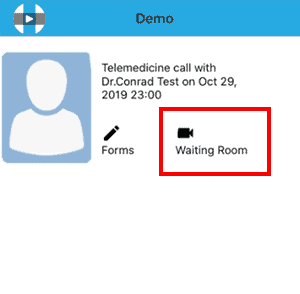 7. ENTER WAITING ROOM
Several minutes before your appointment start time you will tap the WAITING ROOM ICON (for example if it is at 3 pm, you will enter at 2:55 pm)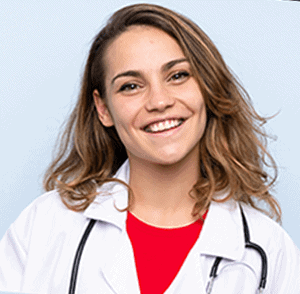 8. WAIT FOR YOUR PROVIDER
Wait in the waiting room for your provider to enter the call. They might be running late so please be patient with them. Here you will be able to see and hear your provider.
If you have forgotten your Apple ID password and wish to reset it so you can download the app, please follow these directions https://support.apple.com/en-us/HT201487
There are two OrthoLive apps in the App store. One is for patients and one is for doctors. The one for Doctors is labeled "OrthoLiveDr". If your login information is not working or says you must "check your credentials", you have downloaded the wrong app. Make sure you have downloaded the OrthoLive Patient app which is the first app to pop up when you search in the app store (the links on this sheet should take you directly to the patient app).
If you see anything that says "practice code" or if you find yourself putting in information such as your name, and birthdate. You clicked sign up. Go back to the first page the app brings you to and login with the correct email and password that was sent to you.
Once you open the waiting room it says "waiting for host" this just means your provider hasn't entered the waiting room yet. Stay on the line and hold tight. If they do not come on the line promptly, then you may call your provider's office to let them know. The OrthoLive support team unfortunately cannot assist with this.
If there is a problem that you found which was not listed on this sheet contact us at +1 844- 884-9663 and leave a voicemail. Our OrthoLive Support team representatives are working hard to get you to your telemedicine appointment on time.
Things to Know About Orthopaedic Telemedicine Appointments
At Orlando Orthopaedic Center, we believe orthopaedic care should be accessible, affordable and available when patients need it most. 
Orthopaedic telemedicine appointments can be scheduled anywhere there is a reliable internet connection 

Orthopaedic telemedicine appointments are with the same orthopaedic specialists you would see by visiting one of our office

locations

 

Each appointment uses HIPAA-compliant video and calls are never recorded or saved for any reason 

When signing up, the practice code

OOC

must be entered to complete registration  

We accept insurance for telemedicine appointments or also offer a self-pay fee of $50 per appointment
For self-pay patients, if the appointment results in an in-person visit, the $50 self-pay fee will be applied toward any costs incurred during the in-person visit
Appointments can be made until 15-minutes prior to closing (See hours)