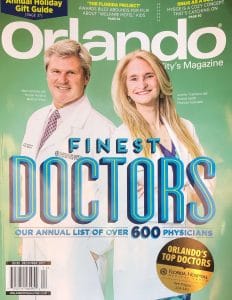 Several of our orthopaedic surgeons were listed as Top Doctors among the more than 23,000 top-rated physicians in metropolitan areas across the country.
The recognition of Orlando's Top Doctors was featured in the December 2017 issue of Orlando Magazine and determined by Washington, D.C.-based Consumers' Checkbook, a nonprofit research organization.
Jeffrey P. Rosen, M.D., Craig P. Jones, M.D., Randy S. Schwartzberg, M.D., and Bryan L. Reuss, M.D., were recognized in the Top Doctors list.
For the full list of more than 600 Orlando Top Doctors visit the Orlando Magazine website.