Sudden injuries are a fact of life, and it always seems like they tend to happen after 5 p.m. or on the weekend. This used to mean a trip to the emergency room (E.R.), but as one local woman recently found out, there is a better way thanks to the convenient Orlando Orthopaedic Center Orthopaedic Injury Walk-in Clinic locations.
Edith, a Clermont-area resident, accidentally took a tumble on her kitchen floor tile, falling directly on her kneecap. "I fell to the floor, and I couldn't get up," she says. "My husband, Bob, quickly ran over to me, took a look at my knee, and saw that it was quite swollen. He tried to put ice packs on it but realized right away that it wouldn't work, and I needed help."
She needed to be seen by an orthopaedic specialist fast, without an appointment. The couple rushed to the nearest Orlando Orthopaedic Center Orthopaedic Injury Walk-in Clinic location and were seen within minutes.
"I can't thank the Orlando Orthopaedic Injury Walk-in Clinic enough for how they helped me," Edith says with a smile. "They took me in with a wheelchair, saw me immediately, took my X-rays, and I could not have asked for better (care). They got us out in about an hour and a half, including X-rays, analysis and brace."
After being evaluated by the walk-in medical staff, she was referred to Bradd G. Burkhart, M.D., a board certified orthopaedic surgeon specializing in sports medicine, knee and shoulder surgery at Orlando Orthopaedic Center.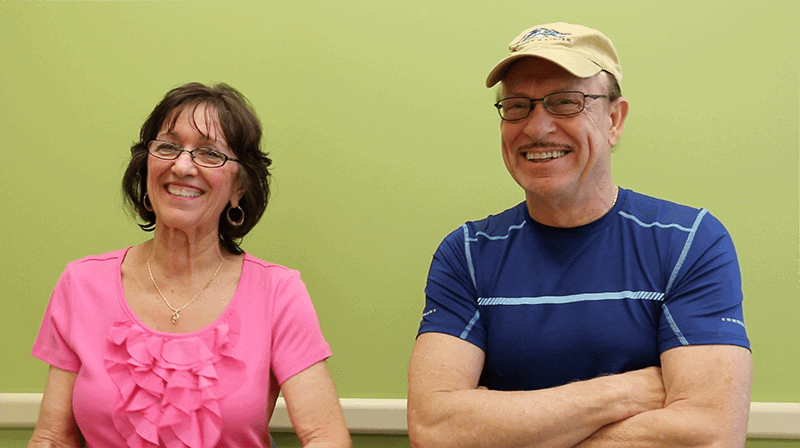 Dr. Burkhart concluded she would not need surgery and prescribed a comprehensive physical therapy protocol to get Edith back on her feet, walking pain-free again without surgery.
"I cannot thank Dr. Burkhart enough," says Edith. "They're just beautiful people here."
Walk-in Access, Direct Link to Specialists
The Orlando Orthopaedic Center urges people to bring their sprains, strains and breaks to one of the Walk-In clinic locations to receive expert orthopaedic care from a specialist without the wait or expense (or non-stop coughing) of a trip to the typical E.R.
Another benefit of coming to the Walk-In clinic is having a direct link to other orthopaedic specialists that may be needed depending on what the injury is. This creates a seamless continuum of care, ultimately benefiting patients like Edith. After being treated for her fracture at the walk-in clinic, she saw Dr. Burkhart for her follow-up visits to ensure she was healing properly without surgery.
"I had the pleasure of seeing Ms. Edith back in August of 2017," says Dr. Burkhart. "Edith's X-rays showed there was a fracture on the bottom part of the patella; and, luckily, the fracture was not very displaced, meaning it hadn't shifted apart too far. So the mechanism of the front part of her knee, what we call her extensor mechanism, was still intact. This means Edith didn't need surgery, and we treated her with conservative, noninvasive measures like physical therapy."
Physical Therapy for Fracture Care
"Right now, I'm in physical therapy," says Edith. "I've been going for the past four or five weeks, and I cannot thank Dr. Burkhart enough for recommending it."
She says the physical therapy staff has been warm, welcoming and has made her feel like she is "a part of the family." This personal touch, coupled with state-of-the-art equipment and continual visits with an orthopaedic specialist, allowed Edith to get back to walking pain-free again in just a few short weeks.
"The people here are outstanding. They're right there for you if you have to make phone calls or have any questions," says Edith. "They try to help you, they're all willing to work with you, and that's very important, especially when you're in a state where you're not feeling the greatest. They're there to cheer you up and make you feel so much better."
After her successful outcome, Edith is ready and excited to get on with her life. "It's unbelievable how I feel, from not being able to stand up at all to now being able to bend my knee and to walk again," she says.