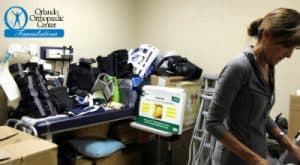 The Orlando Orthopaedic Center Foundation donated $12,000 worth of durable medical equipment (braces, walking boots, crutches, etc.) to Grace Medical Home this week as a result of the 2nd Annual EmBrace Our Community drive. The donation is up $2,000 from last year's inaugural campaign.
Items for the EmBrace drive were collected from patients and community partners at all six of Orlando Orthopaedic Center's office locations (Downtown Orlando, Winter Park, Lake Mary, Sand Lake, Oviedo and Lake Nona).
Grace Medical Home is a non-profit medical care facility serving residents of Central Florida who reside at or below 200 percent of the federal poverty level.
The EmBrace Our Community donation drive compliments similar Foundation efforts to help the underserved population in Central Florida. Each year the Foundation hosts separate fundraising campaigns to send underprivileged children to summer sports camp and provide identified homeless children with a new pair of sneakers.
"We are thrilled with the opportunity to work with Grace Medical Home as they help so many in our community get the care they need," says Jennifer Taggart, director of the Orlando Orthopaedic Center Foundation. "This was the second year of our partnership, and we look forward to continuing to build upon the success we've had thus far to help even more of those that need it most."
About the Orlando Orthopaedic Center Foundation
Founded in 2011, the Orlando Orthopaedic Center Foundation is a 501 (c)(3) nonprofit group based in Orlando, Fla. The Orlando Orthopaedic Center Foundation is fueled by the passion and dedication of the doctors, staff and volunteers who donate their time and expertise to accomplish the Foundation's main initiatives: orthopaedic research, injury prevention in youth athletics and community education and outreach.  To learn more, please visit www.OrlandoOrthoFoundation.org.