This location is temporarily closed. Please call 407-254-2500 for more information or to reschedule your appointment.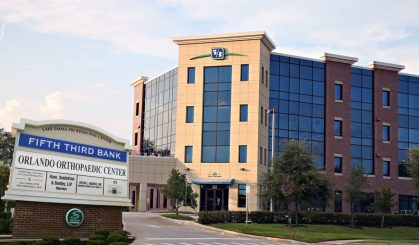 766 North Sun Drive
Suite 4000
Lake Mary, Florida 32746
(407) 834-1556
Office Hours: M-F, 8 a.m. – 5 p.m.
Physical Therapy Hours: M-F, 8 a.m. – 5 p.m. / Lunch, 12 – 1 p.m.
The Lake Mary Office of Orlando Orthopaedic Center conveniently located off of I-4 and Lake Mary Blvd. The facility is located on the fourth floor of the 5/3rd Bank. The address is 766 North Sun Drive, Suite 4000. The Lake Mary office features 7 orthopaedic surgeons offering a variety of orthopaedic specialties.
The Lake Mary facility provides a variety of convenient and state-of-the-art services including:
Digital X-ray
Electronic Health Records
On-site Physical Therapy
On-site Medication Dispensing
Lake Mary Branch Manager
Cathy Rodriguez
(407) 834-1556 x8553
CRodriguez@OrlandoOrtho.com