Knee pain can make performing normal, everyday activities tough and can make maintaining an active lifestyle nearly impossible.
The orthopaedic surgeons at Orlando Orthopaedic Center address disorders that affect the bones, joints, cartilage, muscles, ligaments and tendons around the knee. Common cases involve treating patients with severe arthritis, torn cartilage, torn ligaments, damaged joint lining, fluid on the knee, kneecap misalignment and many knee injuries and degenerative conditions.
From the evaluation and management of degenerative diseases like arthritis to fracture care and even complex joint replacement surgery, our board certified orthopaedic surgeons are here to provide the care you need to get back to your life.
Common Conditions & Treatments
Treating Your Knee Pain Email Series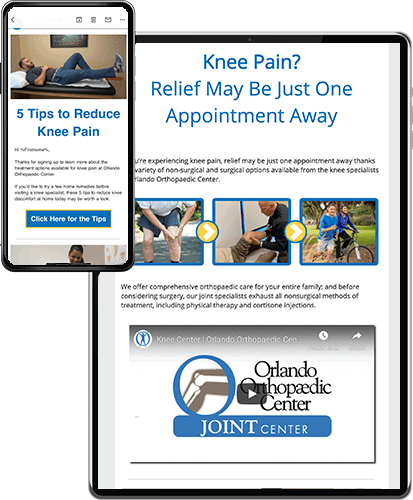 Get additional information about your knee pain delivered right to your inbox.
5 Tips to Reduce Knee Pain
Real Patients Share Knee Success Stories
How to Overcome Knee Pain and Your Options
Free Knee Pain Webinar – Get Advice from a Knee Specialist
A new knee without the Hospital Stay?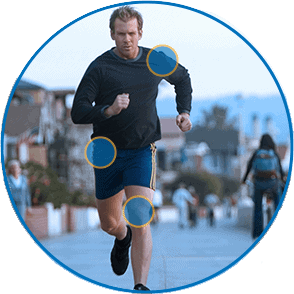 Yes, it's possible to get your new knee without visiting the hospital — if you're a qualified candidate.
Outpatient joint replacement surgery is a viable alternative to traditional inpatient procedures, producing similar results and offering several distinct advantages.
Outpatient joint replacement surgery is available for qualified candidates at the Orlando Orthopaedic Outpatient Surgery Center for the hip, knee, and shoulder.
Orthopaedic Injury Walk-in Clinics