After her procedure with Samuel S. Blick, M.D., an orthopaedic surgeon specializing in knee and shoulder surgery at Orlando Orthopaedic Center, Ruth is now walking without pain thanks to knee replacement surgery.
"The biggest benefit I received was that I'm now able to walk without pain," says Ruth. "I can do all the exercises I couldn't do before."
What is a Total Knee Replacement?
Severe deterioration of the knee due to arthritis or injury can cause disabling pain, making it exceedingly difficult for individuals to perform even the most routine activities, like walking or climbing stairs. Extreme discomfort often accompanies sitting or lying down.
When nonsurgical treatments like physical therapy, injections, and medication are unsuccessful, total knee replacement surgery may be necessary to enable patients to resume their normal routine without pain.
"At one point, I couldn't even walk with the staff, there was so much pain," says Ruth. "Now, there's no pain. I can bang my knee, and I can kneel down. Dr. Blick did a wonderful job."
Since its conception in the United States in 1968, total knee replacement surgery (also known as total knee arthroplasty) has become one of the most popular and successful operations in the country, amounting to more than 600,000 procedures performed annually.
"I needed to have surgery because nothing worked," says Ruth. "I wanted my life back. And then once I had it, it was a new life without pain."
How is Total Knee Replacement Performed?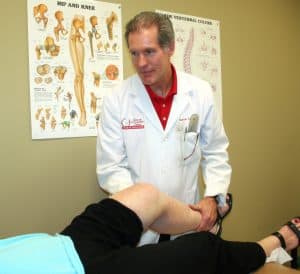 During a total knee replacement surgery, the surgeon removes impaired bone tissue and cartilage from the femur, tibia, and patella, replacing it with an artificial joint composed of metal alloy and state-of-the-art plastic.
Total knee replacement generally consists of four stages:
Preparing the ends of the thigh and shin bones by removing any damaged cartilage
Cementing and positioning metal implants to recreate the joint's surface
Resurfacing the knee cap by inserting a plastic button behind the patella
Inserting a medical-grade plastic spacer between the metal components to form a fluid gliding surface, allowing the knee to move freely in its natural range of motion
"All these years I've been going to Dr. Blick, he's been very personable," says Ruth. "He's a doctor that cares about and is there for his patients. He doesn't fool around and comes right to the point. He tells you what you need to do. And if you listen to him, he'll get it done, and everything will go well."
Ruth also appreciated the support she received from the entire Orlando Orthopaedic staff. "The staff here is wonderful," Ruth continues. "I can't say enough about them, especially Beverley Thatcher (the Sand Lake branch manager). She really helps, especially when you're going through a surgery. Everyone I've encountered here has been wonderful."
Grateful for being pain-free and able to walk normally again, Ruth wholeheartedly recommends Dr. Blick for anyone suffering from what she went through. "For anybody who needs an orthopaedic surgeon, I highly recommend him."