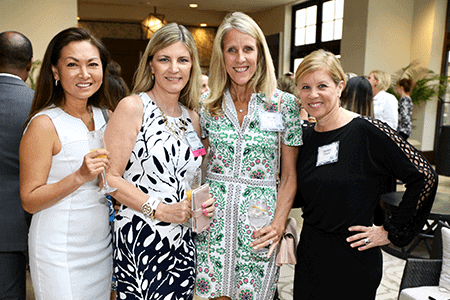 The Orlando Orthopaedic Center Foundation hosted its 3rd Annual Women's Wellness Luncheon with over 190 guests on Tuesday, April 2, at the Alfond Inn in Winter Park, FL. Launched in 2017, the Women's Wellness Luncheon was established for the education, empowerment, and pursuit of excellence in women's wellness.
The afternoon was an incredible success, helping the Foundation to raise funds to support its 2019 Summer Sports Camp program. Every year, the Foundation sends financially disadvantaged youth athletes to summer sports camps. Last year more than 200 youngsters attended summer sports camps, and the Foundation is aiming to send another 250 children and youth this summer.
Foundation board members and guests were honored to hear from 2018 Orlando Orthopaedic Center Foundation scholarship recipient, Zya'Nel Moorehead-McKie. Zya'Nel is currently a student athletic trainer at UCF. She will graduate this May and is pursuing graduate school and potential job opportunities. Zya'Nel expressed her gratitude and appreciation to the Foundation's commitment to education in her field.
This year's luncheon included the addition of a local celebrity emcee, Lisa Bell, mother of two young boys and WKMG TV evening news anchor. She was delighted to join the event to share and promote the Foundation's main mission: to provide access to sports for more kids. Along with Ms. Bell, keynote addresses were given by Orlando Orthopaedic Center Foundation President Randy S. Schwartzberg, M.D. and featured speaker and Foundation Board Member Bradd G. Burkhart, M.D.
To find out more about our GiveKidsSports program and learn how you can support it, visit OrlandoOrthoFoundation.org.