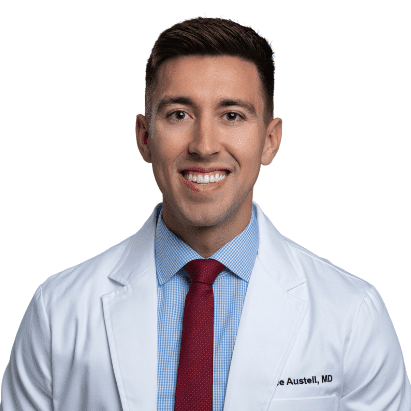 We are excited to announce Bryce T. Austell, M.D., has joined the Orlando Orthopaedic Center team and is now practicing at our locations in Downtown Orlando, Lake Mary, and Oviedo.
Dr. Austell is fellowship-trained in interventional pain medicine and specializes in anesthesiology and orthopaedic surgery.
Dr. Austell is from Chicago, Illinois. He studied mechanical engineering and chemistry at the University of Illinois at Urbana-Champaign before pursuing his Doctor of Medicine at Rush Medical College. While in medical school, he researched aerospace medicine, publishing a report about the effect of space flight on astronaut health.
Dr. Austell remained in Chicago after graduation to complete his residency in anesthesiology at Rush University Medical Center and continued conducting research in anesthesiology and orthopaedic surgery. He then went on to complete a multidisciplinary fellowship in interventional pain medicine at Northwestern University Memorial Hospital in Chicago.
Throughout his studies and career, Dr. Austell's work has been accompanied by a focus on community outreach. He has used various leadership roles to advocate for wellness, diversity, equity, and inclusion in the hospitals and cities where he has worked. He has volunteered his medical care and surgical services through both local humanitarian organizations in the Chicago area and overseas medical aid trips. His other interests include family, friends, health, fitness, saxophone, and travel.