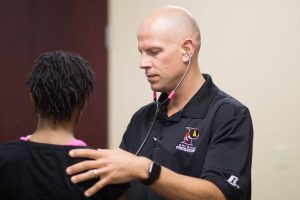 Every year the Orlando Orthopaedic Center Foundation partners with area schools to provide pre-participation high school sports physicals to their students.  As a fundraiser for the school athletic departments, the schools charge a nominal fee for each physical.
Physicians and sports medicine specialists from Orlando Orthopaedic Center donate more than 250 hours of their time to provide sports physicals to students throughout Central Florida from April to August.  Many of the students would not be able to afford these necessary sports screenings if it weren't for the reduced costs offered at these events.
To learn more, contact your school's athletic department directly or call Andy Reber, sports medicine outreach coordinator for Orlando Orthopaedic Center, at (407) 254-2501 or email him here.
2017 Schedule:
| School | Date | Time |
| --- | --- | --- |
| Evans High School | Tuesday, April 4 | 5:30PM – 7:00PM |
| Lake Howell High School | Wednesday, April 5 | 5:30PM – 7:00PM |
| East River High School | Tuesday, April 11 | 5:30PM – 7:00PM |
| Lyman High School | Thursday, April 13 | 5:30PM – 7:00PM |
| Oviedo High School | Monday, April 17 | 5:00PM – 6:30PM |
| Boone High School | Thursday, April 20 | 5:30pm – 7:00pm |
| Lake Brantley High School | Monday, April 24 | 5:30PM – 7:00pm |
| Hagerty High School | Wednesday, April 26 | 5:30PM – 7:00PM |
| Colonial High School | Monday, May 1 | 5:30PM – 7:00PM |
| Apopka High School | Wednesday, May 10 | 5:30PM – 7:00PM |
| Oak Ridge High School | Tuesday, May 16 | 4:30PM – 6:00PM |
| Winter Springs High School | Thursday, May 18 | 6:00PM – 7:30PM |
| University High School | Monday, May 22 | 5:30PM – 7:00PM |
| Trinity Prep | Wednesday, May 24 | 5:30PM – 7:00PM |
| Timber Creek Physicals | Tuesday, May 30 | 5:30PM – 7:00PM |
| Cypress Creek High School | Thursday, June 1 | 5:30PM – 7:00PM |
| East Orlando Junior Predators | TBD | TBD |
| Lake Mary Prep | TBD | TBD |
| Seminole State College | TBD | TBD |