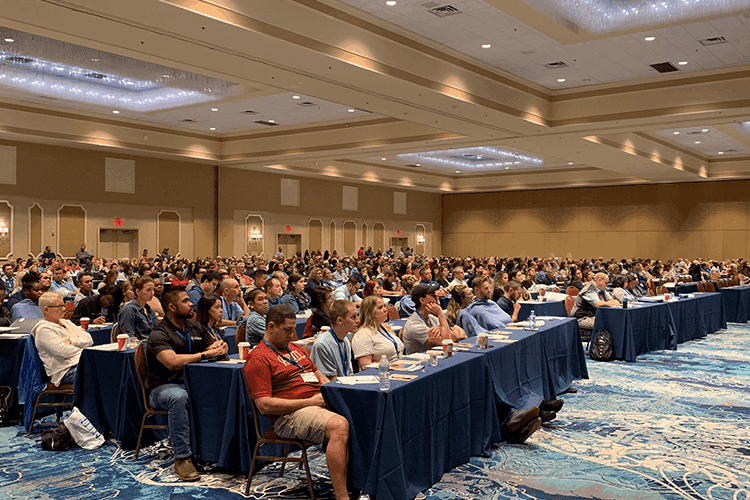 The Orlando Orthopaedic Center Foundation provided continuing education and welcomed more than 650 attendees to the 2019 15th Annual Orthopaedic Update for Allied Healthcare Professions on Saturday, August 3, at the Rosen Plaza Hotel. The event marked the 30th such continuing education course for Orlando Orthopaedic Center and the 501(c)(3) Orlando Orthopaedic Center Foundation.
This one-day program provides the most up-to-date information and education on orthopaedics and sports medicine topics. The specially-designed program aims to assist healthcare providers to acquire the skills and knowledge to provide quality care and improve patient outcomes. Affordable continuing Education Credits (CEUs) were offered to all healthcare professionals in attendance.
At the event, the Foundation donated $2,500 to the UCF Student Athletic Trainers' Organization (SATO). Thanks to the two annual seminars put on by the Foundation, both UCF's Student Physical Therapy Association (SPTA) and SATO have been awarded more than $44,000 since the seminar's inception.
Of the $2,500 donated, $1,500 was awarded to the Orlando Orthopaedic Center Foundation Scholarship benefiting an outstanding UCF student majoring in Athletic Training.
The day featured lectures from leading physicians and area specialists as well as several panel discussions on the latest technology and surgical procedures used to treat orthopaedic conditions and injuries associated with the spine, hip, knee, ankle, and shoulder. The seminar included a brief overview of the related anatomy, as well as rehabilitation considerations for non-operative treatment options and post-surgical therapy protocols.
The course also discussed how the use of opioids has become a concern in the healthcare system, in addition to varying pain relief strategies for both acute and chronic orthopaedic conditions.
Additional proceeds from the day benefit the Orlando Orthopaedic Center Foundation and its primary initiative to provide access to organized athletic programs for underserved area youth.
Thank You to Our Sponsors