Caitlin had been playing volleyball for ten years when two ankle breaks in a short time threw her school and club season into a tailspin. In an effort to solve her ankle issues and get back to the sport she loved, Caitlin turned to Sophia P. Davis, D.O., a foot and ankle surgeon at Orlando Orthopaedic Center.
"Thanks to Dr. Davis, surgery has been a permanent fix," says Caitlin. "I haven't had any further issues with my ankle. I'm at Camp Crestridge right now, and I am hiking every single day without any problems. I'm excited for another volleyball season coming up soon."
With modern treatment methods, most ankle fractures heal without any problems. However, certain risk factors make it more likely that a bone will fail to heal, such as when it lacks adequate stability, blood flow, or both. When a broken bone fails to heal, it is called a "nonunion" fracture.
"I treated Caitlin for a distal fibula nonunion, which happened through her growth plate," says Dr. Davis. "This is very unusual because typically growth plate fractures heal very well. However, she had a couple of injuries to this area, and so it had progressed to nonunion."
"The treatment that I selected for her was a fibular nail to compress the fracture site," Dr. Davis continues. "I also bone grafted it with a graft from her calcaneus (heel bone). I took bone cells from the calcaneus and put it in the area of the fracture to help heal it. Today, Caitlin is back to all of her activities, including playing volleyball."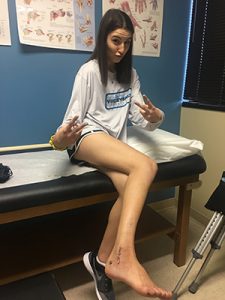 For Caitlin's mother Gina, Dr. Davis went above and beyond what is expected from the average surgeon. "Dr. Davis answered all of the million questions we had when we went to see her in her office," says Gina. "She took the time to call us on the telephone as Caitlin's surgery drew closer to settle our concerns and fears with our daughter having such a big surgery."
"The day of surgery, Dr. Davis took the extra time to meet with my husband, who wasn't able to be present at all the appointments but had questions himself. Even though she had answered several questions multiple times over, she never hesitated to take the time and walk us through it, step by step, once again."
For Gina, Dr. Davis' professionalism, interpersonal skills, and knowledge are second to none, and she strongly recommends her for anyone else going through what Caitlin did. "The Rumbaugh family would one million percent recommend Dr. Davis to any family that is looking for topnotch care," she affirms. "You can look and look for a doctor or surgeon. Save yourself the time and make an appointment with Dr. Davis to receive the excellent care and results that we received for Caitlin."
Grateful for her healing journey with Dr. Davis, Caitlin is now proud to have a new physician as well as a companion. "I would definitely, 10 out of 10, recommend Dr. Davis for anybody," says Caitlin. "She is not only extremely qualified for the medical part of surgery, but she is an incredible person who has an amazing bedside manner. She is a great doctor and a great friend."