After seeing eight other doctors for constant knee pain, Darnell finally found relief when she consulted Samuel S. Blick, M.D., an orthopaedic surgeon specializing in knee and shoulder surgery, sports medicine and knee replacement at Orlando Orthopaedic Center.
"I can do just about anything I want now," says Darnell. "I can go grocery shopping, clean my house, and chase my grandkids through the park. Before I was in constant pain, had to walk with a cane, and needed to wear a knee brace everywhere I went. I was living on pain medications, topical creams, and even some opioids."
Knee pain is reported to affect 20% of the population, and its incidence and severity of symptoms increase with age. Moreover, knee pain can both cause and can result from osteoarthritis, a degeneration of the cartilage of the knee.
Some symptoms that commonly accompany knee pain include:
Restricted movement

Decreased muscle control

Reduced strength

Swelling

Instability
What is a Non-Surgical Solution for Knee Pain?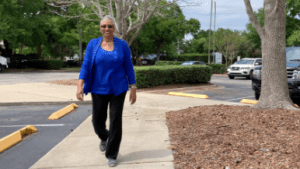 After her attempts with eight other doctors failed to relieve her knee pain, Darnell turned to Dr. Blick, the surgeon who had repaired a torn meniscus in her right knee in 2007. His personalized and unique approach to Darnell's lingering problem freed her from chronic pain and helped her avoid surgery.
"The biggest benefit was having a physician who took the time to look at the MRIs and the X-rays and listen to what I was telling him," says Darnell. "After examining my X-rays and MRI, Dr. Blick told me, 'I don't believe your knee is the problem. You do have some arthritis, but I believe your hip is the issue.' That changed the whole direction of my treatment protocol."
"Dr. Blick gave me a cortisone shot and told me to go home and rest. After two weeks, I was able to move around with minimal pain. My pain level went from a ten to a three, and when I came back to see him, he said, 'You're doing well. I'm going to send you to physical therapy, and you don't have to come back to see me once you finish.'"
What Is a Cortisone Injection?
Cortisone injections are an integral part of conservative, non-surgical treatment methods used by pain management specialists to relieve pain and inflammation in the body. Cortisone injections have grown in popularity to treat pain and inflammation in the muscles and joints. The injections complement other conservative therapies such as medication and physical therapy.
Darnell appreciated the high-level of patient care she received from everyone at Orlando Orthopaedic Center. "Whenever I come to the office, the front desk staff are very prompt in taking my copays and getting me in to see the doctor right away," she says. "I don't think I've ever waited more than five minutes."
"I really appreciate Dr. Blick's willingness to listen and to look at my situation as an individual. I think his experience was one of the main factors that made him go a different route. Dr. Blick could see that I wasn't getting relief with traditional knee treatment because the knee wasn't the source of the problem."
Grateful for being pain-free and able to play with her grandchildren again, Darnell wholeheartedly recommends Dr. Blick for anyone suffering from what she went through. "If anyone has medical issues and not getting the kind of results that you need, call an experienced doctor like Dr. Blick," she says. "He's a physician that's going to listen to you and try something that is, maybe a little bit different than what everyone else is telling you. That was a miracle for me."