Knee replacement surgery is one of the most successful surgeries in all of medicine with more than 600,000 surgeries performed each year, according to the American Academy of Orthopaedic Surgeons. Total knee replacement is a safe and effective procedure to treat pain and help patients return to their normal activities.
William S. Bradford, M.D., spent the first several years of his retirement pursuing his biggest passion: stream fishing for rainbow trout. Eventually, his continued, long standing knee pain started to worsen, limiting his mobility and making everyday tasks, like climbing stairs, or hiking to a stream, almost impossible.
After trying all conservative treatment methods as recommended by Travis B. Van Dyke, M.D., a board-certified orthopaedic surgeon specializing in sports medicine and joint replacement at Orlando Orthopaedic Center; Dr. Bradford decided it was time to have his knee replaced by Dr. Van Dyke.
"It became apparent to me I was never going to get well by putting a Band-Aid on this problem," says Dr. Bradford. "My experience with Dr. Van Dyke was wonderful, and it resulted in what I consider being excellent results."
What is Total Knee Replacement Surgery?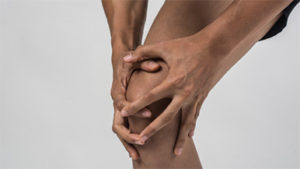 The knee is the largest joint in the body. The knee joint is made up of four parts: bones, cartilage, ligaments, and tendons. The bones consist of the femur, which is the lower thigh bone; the tibia, which is the upper end of the shinbone; and the patella, which is the kneecap. The menisci are located between the femur and tibia and act as "shock absorbers" that cushion the joint. The cartilage helps the bones glide smoothly over each other. The ligaments connect the bones to each other. The tendons connect the bones to the muscles. Typically, all of these parts work together smoothly, but a knee injury and arthritis can cause the knee to work improperly resulting in damage and pain.
"When it becomes apparent that conservative treatment methods such as rest, pain management, activity modification and physical therapy are not going to result in pain relief, I discuss partial or total knee replacement with my patients," says Dr. Van Dyke. "With a total knee replacement, we remove the damaged joint surfaces entirely and replace the knee with an artificial joint."
During a total knee replacement, an incision about six to 10 inches long is made so Dr. Van Dyke can access the knee. The kneecap is moved aside, and the surgeon cuts away the damaged joint surfaces, which includes the end of the femur and tibia. The damaged cartilage and bone is then replaced with a prosthetic joint. The surgeon utilizes advanced measurement tools to ensure the knee is in the proper position and closes the incision.
What is the Recovery Process for a Total Knee Replacement?
Typically, a full recovery from a total knee replacement takes four to six weeks. After a total knee replacement, patients will remain in the hospital overnight. Patients will be encouraged to stand and move the joint the day after surgery.
A physical therapist will then work with a patient to help them regain strength and range of motion in their new knee.
"We start physical therapy as early as possible," says Dr. Van Dyke. "Patients who start physical therapy earlier often report high satisfaction ratings and even faster healing times when compared to those who wait."
After putting his knees to the test fishing again in his favorite stream, Dr. Bradford says he has experienced "excellent results."
"If you're hesitant, go ahead and make the move and hopefully you'll enjoy the benefits I have enjoyed," he adds.
What are the Results of Total Knee Replacement Surgery?
Following surgery, patients typically experience significant pain relief and improved mobility. Once fully recovered, most patients resume their normal daily activities; however, there are some limitations on activities considered to have "high-impact" on the knees, such as jogging, tennis, skiing and contact sports.
With the potential benefits a total knee replacement offers, Dr. Bradford thinks future patients shouldn't put off the surgery.
"There's no sense in putting up with the pain because it's not going to go away," he says. "If there's a safe, relatively painless way to correct this problem, like a total knee replacement, I advocate it highly. Surgery with Dr. Van Dyke is a very prudent, safe exercise with a high degree of success."