After three years of physical therapy failed to improve the deformities in her hand and foot, Annette finally found relief when she turned to the surgeons at Orlando Orthopaedic Center.
Now she is back walking, out of depression, and able to live independently on her own again. "The biggest benefit is that I got back to the things I loved doing before my stroke," says Annette. "This medical practice is the best I've ever been to."
When Annette suffered a massive hemorrhagic stroke as a result of a brain aneurism, she lost the full use of her left side. "Along with that, my muscles started contracting, and I had plasticity and tone, the bad tone that doesn't make you able to move your limbs," says Annette. "For three years, I was in intense physical therapy with no progress. Just a lot of pain."
Dr. Christensen: What is the First Step on the Road Back to Recovery?
With the help of her mother, a medical professional, Annette found Alan W. Christensen, M.D., a board-certified orthopaedic surgeon at Orlando Orthopaedic Center specializing in hand and upper extremity surgery. After a comprehensive evaluation, Dr. Christensen recommended surgery to release the affected tendons in her hand and lower arm.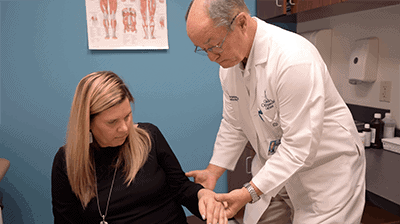 "Fortunately, my mother comes from the medical profession," says Annette. "She looked up Dr. Christensen, we came in, and he explained the success he has had with this type of surgery."
"Annette came in with a clenched fist deformity of her hand," says Dr. Christensen. "We had to make an incision and release the tendons, and actually transfer them to other tendons. Once that operation was successful, we went up to her elbow and released the muscles in the elbow, so that she could bring her arm down into extension. After seeing her in follow-up, Annette seems to be doing very well and is very happy with her surgery."
"I was in an immense amount of pain prior to the surgery," says Annette. "After the surgery, I no longer need to take any pain medication. Dr. Christensen referred me to a great hand therapist, and I'm starting to get some movement back in my left arm and hand."
How Did Dr. Davis Get Annette Walking Again?
For the next step of treatment, Dr. Christensen referred Annette to Sophia P. Davis, D.O., a foot and ankle surgeon at Orlando Orthopaedic Center, to treat a fixed plantar flexion deformity in her foot.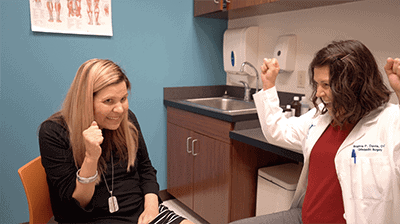 Orlando Orthopaedic Center is able to provide a streamlined continuum of care for patients, regardless of injury or level of treatment complexity, thanks to the specialized team of providers and subspecialists within the practice.
"Annette sustained a stroke, and her foot was stuck in a plantar-flexion position (meaning the top of her foot pointed down as if she was standing on the tips of her toes). This prevented her from walking normally and having her foot braced," explains Dr. Davis. "I did a 10-minute Achilles tendon release procedure, and since then, she has been doing significantly better."
"Annette went from a wheelchair to now walking on her own," Dr. Davis continues. "She now lives independently, and she's able to care for herself without any help. So it really has been life-changing for her."
Dr. Davis sees a clear difference in Annette's demeanor since the time she first came in for a consultation. "I remember when Annette came to see me for the first time, she was very sad," says Dr. Davis. "She had this look on her face where it seemed like her life had been robbed from her. When she came to see me the last time, she was all smiles from ear to ear, and she was ecstatically happy. People like Annette are the exact reason why I do what I do."
Annette couldn't agree more. "Now I'm in the kitchen cooking, and I can go get my nails done now, which I did every two weeks before my stroke," she says. "My family and friends have noticed I'm laughing more. I'm getting back to the pre-stroke Annette, not the post-stroke depressed Annette."
What Did Annette Say About Being a Team Effort?
Annette was impressed not only by her surgeons' skill but the entire team at Orlando Orthopaedic Center. "For one, if you have an appointment at 9 a.m., you are seen at 9 a.m.," she says. "I've had over twenty surgeries in my lifetime, and I've never been in the O.R. at the time of my scheduled surgery. With this practice, I was."
Grateful for her new lease on life, Annette wholeheartedly recommends Dr. Christensen and Dr. Davis for anyone suffering from what she went through. "I would tell any stroke or traumatic brain injury patient: if you've done all the physical therapy or traditional routes and you're not getting anywhere, definitely come in and talk to these people," she says.  "I'm living, walking proof that it works."