Joint replacement surgeons at Orlando Orthopaedic Center work closely with anesthesiologists to offer patients femoral nerve blocks so patients can experience a faster and less painful recovery period following knee replacement surgery. 
This recent technology in pain management is preferred for knee replacements over pain medications in pill form and intravenous (IV) injections because it presents fewer side effects. Nerve blocks carry a low risk of complications and have significant applicability for surgical anesthesia and postoperative pain management.
How Are Nerve Blocks Administered?
The nerve block medication is administered through an injection delivered to nerves close to the site of surgery. In the case of knee replacement, the block targets the femoral nerve. The femoral nerve innervates the front of the thigh and knee. Therefore, pain from knee surgery is transmitted to the brain primarily by the femoral nerve. Once the nerve block is performed, the local anesthetic blocks transmission of signals within the femoral nerve that causes the sensation of pain.
Ultrasound imaging aids the doctor in placing the needle in exactly the right location, in the upper portion of the thigh in this instance. This technique is associated with minimal discomfort because the needle passes only through the skin and adipose tissue of the inguinal region.
What Are the Recent Advances in Nerve Block Technology?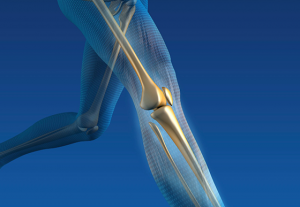 Fairly recently, imaging technologies have become even more advanced, increasing the feasibility of nerve blocks for knee replacements. Newer equipment and improved ultrasound imaging, as well as recent price drops in the equipment, make femoral nerve blocks a more viable choice for post-operative pain relief in total joint replacements. 
This allows doctors to block pain only where needed. Moreover, it significantly reduces or eliminates the side-effects of typical pain medications such as nausea and sedation, allowing for quicker recovery and transition to physical therapy.
What Are the Effects of Nerve Blocks?
The effects of the block are usually felt immediately. It only takes a few minutes for the local anesthetics to take effect. The effects of the nerve block are temporary. However, they are helpful in significantly decreasing pain during the surgery and the immediate postoperative period.  
Typically, patients can look forward to enjoying significantly reduced amounts of pain as well as fewer side-effects from intravenous or oral pain medications for the first 18-36 hours after surgery. This represents the early post-operative period in which it is significantly advantageous for the patient to be initiating physical therapy and ambulating on their new knee prosthesis.
When Are Femoral Nerve Blocks Used?
The femoral nerve block is typically used before total or partial knee replacement surgery. It can be used before other surgeries such as anterior cruciate ligament (ACL) reconstruction as well.  Proper placement of the femoral nerve block is key. This requires proper training, experience, and equipment. 
The knee surgeons at Orlando Orthopaedic Center partner with anesthesiologists at Orlando Regional Medical Center to provide this modern pain management option to patients. Eric G. Bonenberger, M.D., an orthopedic surgeon with Orlando Orthopaedic Center, says, "This is newsworthy because until recently, knee replacement surgery was performed and pain medications were given as pills or as IV injections." 
"These modalities are still used, but these are supplemented by the effects of a nerve block injection provided before surgery. Nausea, sleepiness, and confusion are all side effects caused by narcotic-containing medications. Of course, oral and IV pain medications contain narcotics. So, the femoral nerve block decreases a person's need for narcotic medications, which means they are less likely to become nauseous, over-sedated and confused in the immediate post-operative period."
What Are the Benefits of Femoral Nerve Blocks?
Narcotics frequently leave patients too sick or weak to begin rehabilitation, but femoral nerve blocks allow enough sensation to begin rehabilitation of the joint fairly soon after surgery. The goal is to help patients regain knee function and mobility as quickly as possible, with as little interruption to their daily lives as possible. With the nerve block, side effects and recovery time are minimized. These patients have started on physical therapy right away and set on a path to recovery as soon as possible.
Joint Center doctors pair this revolutionary form of pain management with the newest minimally-invasive knee surgeries to create options for their patients that require less downtime, less time out of work and less disruption from their normal daily activities. 
Surgeons at Orlando Orthopaedic Center perform the quadriceps-sparing knee replacement in conjunction with the nerve blocks. This is the most advanced knee replacement option available at the time, and it is available right here in Central Florida. Orlando Orthopaedic Center is dedicated to offering patients advanced options such as nerve blocks to aid them in a speedy recovery with the least amount of pain possible.