Many joint specialists throughout the Orlando-area are now employing a multimodal pain management protocol to treat pain following knee replacement procedures. This method proves beneficial to patients by providing increased post-operative comfort and a reduced dependency for potentially addictive narcotics.
Adequate pain management has been shown to help in the post-operative healing process by leading to an expedited rehabilitation schedule. As a result, patients gain a return of muscle strength and range of motion at a faster rate, allowing them to heal in a shorter period.
"Previous studies have shown that more than 50 percent of patients undergoing surgery report postoperative pain as a major concern," reports Samuel S. Blick, M.D., "But today they don't have to be. There are a lot of options to help minimize and control pain for both partial and total knee replacements."
Knowing that inadequate pain control may result in impaired patient rehabilitation and prolonged hospitalizations, Dr. Blick utilizes a multimodal method to treat his patients following surgery. Below are some of the techniques he employs to achieve the best pain control possible following knee replacements.
Pre-Op Femoral Nerve Block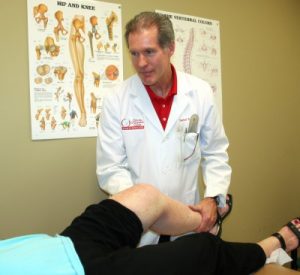 Placed before surgery, the femoral nerve block catheter is placed alongside the femoral nerve (located in the upper thigh) and is used to deliver medication to put the nerve to sleep for up to 24 hours. This analgesic medication numbs the patient's knee area by blocking pain signals to the brain.
"The femoral nerve supplies sensation to the front of the knee where the incision is made," says Dr. Blick. "By controlling pain in the first 16-24 hours, it allows the patient increased ease when starting rehab."
By using this method for pain control, patients require fewer narcotic medications and will therefore have less undesired side effects.
Patient Controlled Analgesia ("Pain Pump")
The Patient Controlled Analgesia (PCA) method for controlling post-operative pain is often referred to as a "pain pump." Pain relief is provided via an intravenous pump allowing patients to administer their pain medication (morphine or oxymorphone) following surgery.
The machine has a control button that can be pressed 6-10 times per hour. However the settings are ultimately set by the surgeon. If a patient presses the button more than the settings allow, the pump will not work to prevent overdosing.
"Because the medication is administered directly into the intravenous line, it works very quickly, making it very favorable for patients," says Dr. Blick. "And contrary to popular belief, patients cannot become addicted to morphine by using a PCA in a controlled environment for a limited amount of time. In fact, the pump is only used for the first two post-operative days."
Oral Medications
As a patient's recovery continues, the use of oral medications is introduced to help control post-operative pain. Using non-steroidal anti-inflammatory drugs (NSAID), like Celebrex, patients can curb further discomfort they feel during the rehabilitation process.
These non-narcotic NSAIDs are structurally similar to aspirin and will help a patient with "breakthrough pain." A doctor may also order acetaminophen (Tylenol or similar medications) continuously to reduce the need for the use of rescue narcotics.
Anti-inflammatories, such as Celebrex, may also be used to increase the effectiveness of other treatment modalities following knee replacement surgery.
"Typically these medications have been demonstrated to have efficacy in patients while also reducing morphine requirements," says Dr. Blick. "They are better tolerated in the elderly and high-risk patients as well."
Multimodal Pain Management Conclusions
The goal of each of these treatment methods is to manage post-operative pain, allowing patients to participate in their rehabilitation program as quickly as possible, thus maximizing the outcome following surgery.
"Pain has different pathways to the brain," says Dr. Blick. "We want to interrupt as many of those pathways as possible so patients can recuperate as safely and effectively as possible."
Originally Published in FloridaMD, May 2013.