Thanks to minimally invasive lumbar spinal stenosis treatment involving decompression and fusion surgery with Stephen R. Goll, M.D., a board-certified orthopaedic spine surgeon at Orlando Orthopaedic Center, Scott got rid of his constant pain and can now walk pain-free again.
"I basically couldn't walk at all before I had the surgery. The pain was tremendous," says Scott. "Since the surgery, I'm walking normally. The pain is gone, and my life has pretty much turned to normal again."
After undergoing a thorough physical examination and MRI with Dr. Goll, Scott discovered he had what's known as lumbar spinal stenosis, a narrowing of the open spaces within the spine. His results also showed that he had degenerative disc disease in his lower spine and a herniated disc.
What Is Lumbar Spinal Stenosis?
Lumbar spinal stenosis can develop from the wear and tear on the spine and frequent changes that people experience as they age, such as:
Ligaments and other connective tissues become more thick and dense

The appearance of bony spurs caused by arthritis that impinge on the spinal nerves

Intervertebral spinal discs get pushed back toward the spinal nerves
By age 50, about 95% of people will experience degenerative changes in their spine. Spinal stenosis is most common in adults over 60 years of age.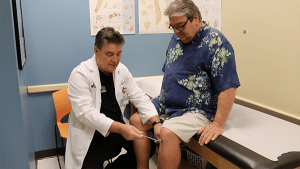 Scott first attempted to relieve his chronic pain with oral medication and physical therapy. When those methods failed, he tried to find relief through epidural injection; however, that too could not help him reduce the constant discomfort he felt, especially when walking or standing. Scott and Dr. Goll decided that his best chance of regaining his quality of life would be to undergo minimally invasive transforaminal lumbar interbody fusion (TLIF) surgery.
"I originally had the epidural injections twice to see if that could help out with the pain," says Scott. "Unfortunately for me, that didn't work. The pain was so intense that I decided to go ahead and get the surgery done."
What Is Minimally Invasive Lumbar Decompression and Fusion Surgery?
Lumbar decompression and fusion is a surgical procedure to alleviate pressure on the spinal cord or on one or more of the compressed nerve roots that pass through the spinal canal. The traditional method of performing spine fusion surgery has been to use longer incisions to allow the surgeon an expanded view of the spinal column.
However, technological advancements have allowed spine surgeons performing lumbar fusion surgery to operate using state-of-the-art instruments and tiny tubes through minimally invasive incisions. Rods, screws, a specially designed spacer, and a bone graft is implanted into the space between the affected vertebrae, allowing the bones to grow and fuse together over time.
The innovative fusion procedure:
Improves fusion rates

Prevents significant injury and trauma to the soft tissues around the spine

Produces less scarring and decreased discomfort after surgery

Allows for shorter hospital stays

Promotes

quicker recovery times
"The surgery was minimally invasive," says Scott. "It required a one-night stay in the hospital. And I went home the next day."
Scott appreciated Dr. Goll's bedside manner and communication skills as well as the care and attention he received from the entire Orlando Orthopaedic Center team. "The whole experience with Dr. Goll was absolutely wonderful," he says. "He has a great personality, always a big smile, and willing to explain and go into whatever detail you feel necessary. His assistant, Colin Penn, is just as friendly as well as his entire staff. From the receptionist to the finance people, the whole group is just friendly, down-to-earth, and they care about the patient and their well-being."
Recovery Following Minimally Invasive Lumbar Decompression and Fusion Surgery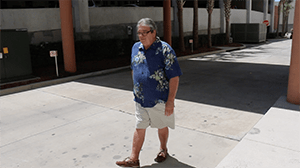 Many patients experience considerable improvement of their symptoms after surgery and can get back to their regular activities in just a few weeks. Working in conjunction with a certified physical therapy and rehabilitation program, patients can expect a full recovery in about six weeks after surgery.
Exact recovery times both in the hospital after surgery and during the rehabilitation phase depend on each patient's personal and medical history, lifestyle, and the nature of the procedure.
Thanks to the experience, skill, and diligent care of Dr. Goll and his staff, Scott can get back to doing the things he loves most. "I'm looking forward to starting boating and fishing again very soon," he says. "I feel great, and (the surgery) was a really good experience."