Maria's life changed when she was attacked out of the blue by a neighbor's dog. From taking a walk around her block to being rushed to the emergency room in the blink of an eye, Maria almost lost complete use of her hand because of the bite; but an upper extremity reconstruction saves her arm and allows her to return to work.
"I was bitten by a dog at a friend's house back in March of 2014," says Maria. "I went to the emergency room and Dr. Riggenbach took over, started repairing my arm, and did a really good job of it. He's an amazing doctor."
Following several upper extremity reconstruction surgeries, Michael D. Riggenbach, M.D., a board-certified orthopaedic surgeon at Orlando Orthopaedic Center specializing in hand and upper extremity surgery, peripheral nerve surgery, and microsurgery, was able to help Maria return to living a normal life without compromise.
How is Arm Reconstructive Surgery Performed?
Reconstructing the arm after a severe dog bite can often require a number of surgeries over time to gradually restore the skin, muscles, tendons and nerves that may have been damaged. The normal reconstructive protocol begins by irrigating and cleaning the wound, stabilizing the bone, restoring vascular flow,  and repairing nerves, tendons, and closing the wound or covering the soft tissue losses. Skin grafting, local and distant flaps, and microsurgery may be used to replace any loss of flesh.
Immediately following her traumatic injury, Dr. Riggenbach performed reconstructive surgery on the outer flap of Maria's right arm to seal the wound. This was followed by a second debulking surgery eight months later in which areas of bulky skin and fat were smoothed out.
"He was trying to save my arm," says Maria. "He tried to put everything back as much as possible. It got infected so he wanted to do other surgeries to repair it. I'm glad he took extra steps."
Endoscopic Carpal Tunnel Release
Unrelated to her dog bite injury, Maria eventually developed carpal tunnel, a common nerve compression condition of the wrist. To treat the carpal tunnel, Dr. Riggenbach performed a minimally invasive endoscopic carpal tunnel release (ECTR) procedure in November of 2016.
The endoscopic method is a minimally invasive surgical technique that provides the same effective results of traditional open carpal tunnel surgery with smaller incisions and a more rapid return to function.
Endoscopic surgery uses small incisions in the wrist to access and release the transverse carpal ligament. A small camera (endoscope) attached to the end of a tiny tube is guided through the incisions and allows the surgeon to work directly on the affected structures.
Conventional open carpal tunnel surgery uses longer incisions that involve opening and dividing the skin of the palm, thereby disrupting more of the soft tissue in the hand. The long-term effectiveness of both endoscopic and open surgery are the same, however, studies have shown endoscopic surgery to have the following advantages:
Faster recovery times

Less scarring and tenderness during the first three months after surgery

Allows patients to get back to work in a shorter amount of time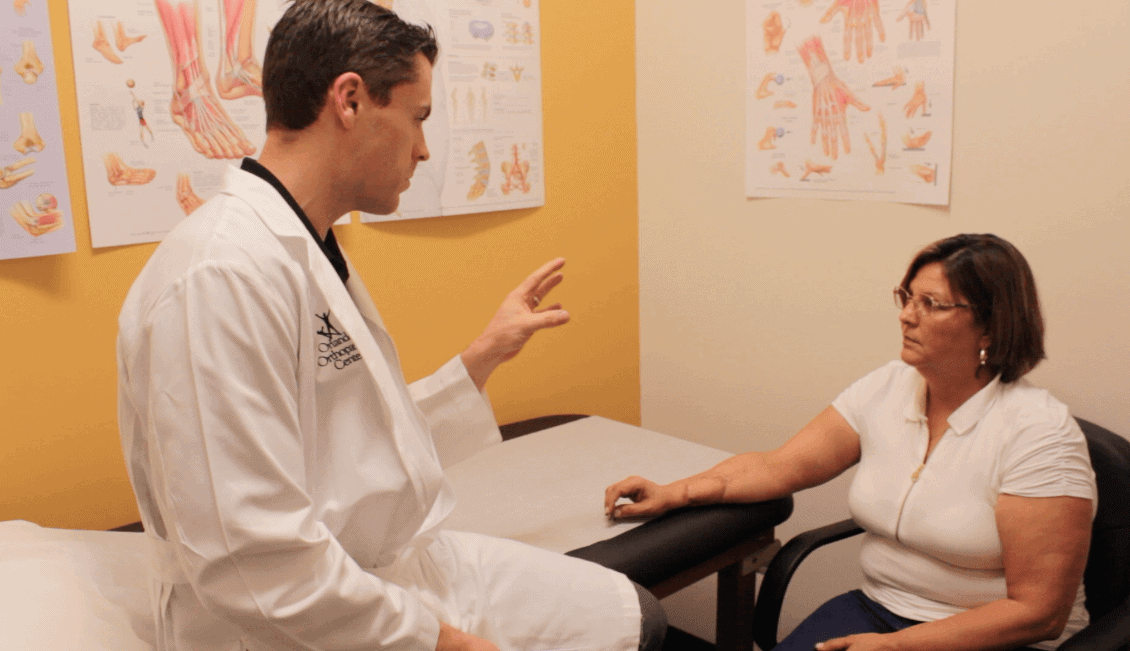 Maria felt comfortable and was put at ease by how Dr. Riggenbach communicated with his patients. "He's very good at his job, he's very concerned," she says. "He's always asking questions. He doesn't just go in a room, checks you and leaves. He makes time for you and shows you he cares."
Maria also credits the entire staff at Orlando Orthopaedic for her positive experience. "Jackie's wonderful. You want an appointment, she answers you right back," she says. "Dr. Riggenbach has an amazing assistant, Gloria. I love her. If I could take her home, I would. All his staff is excellent and very attentive. I feel like I have a very close relationship with all of them."
Grateful for recovering the full use of her arm, Maria recognizes the crucial role Dr. Riggenbach played in saving her arm.
"I thank God and I thank Dr. Riggenbach that I do have my arm, (that) I can move and use it completely. As a caring doctor, he was there and helping me through everything every single day," she says.