Simple daily tasks, like wearing the kind of shoes you actually want to wear, are often taken for granted. Wearing stylish shoes is a luxury that someone with an uncomfortable bunion is not always able to do.
Tammy, a recent patient of Daniel L. Wiernik, D.P.M., freely admits she had a few fears running through her head as she considered the idea of pursuing a double bunionectomy surgery — the removal of bunions on both of her feet.
What are Bunions?
Bunions, also known as hallux abducto valgus, are the result of a structural problem in the bone of the big toe. They begin to form over time once the bone or tissue at the joint moves out of place, or shifts — often caused by wearing shoes that are too narrow.
When untreated, bunions cause the big toe to bend toward the others, therefore causing the big toe joint to become significantly deformed. This makes it hard to stand for long periods of time, walk or do other physical activities.
"I'm able to exercise without any discomfort and I'm able to wear shoes without having to pad my feet with multiple Band-Aids and gauze," says Tammy, simple acts that are often taken for granted by those without the sometimes debilitating condition.
What Are Diagnosis and Treatment Options for Bunions?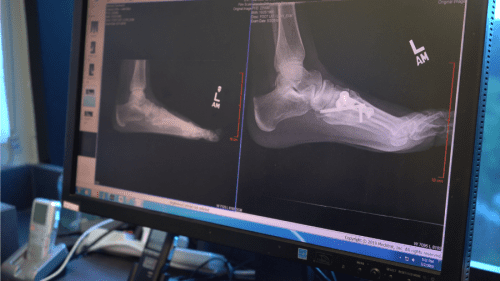 Because bunions are a progressive disorder, it is important to establish a treatment plan immediately after diagnosis. The board of certified foot and ankle specialists at the Orlando Orthopaedic Center offer unparalleled treatment and rehabilitation for those suffering from bunions.
The specialists can provide multiple treatment options for patients in all stages of bunion progression, whether it be an early or more extensive case. Treatments range from undergoing regular observation in progressing cases to receiving cortisone injections and potentially surgery in more serious cases.
Some patients, like Tammy, are often candidates for bunion surgery, or a bunionectomy — which has a goal to correct the changes to the bone and tissue of the foot, and to remove the visible bump on the exterior of the foot.
What Is the Process of a Double Bunionectomy Surgery?
Tammy considered having the procedure done five to seven years prior to going in for the surgery. A nurse herself, she had a few fears in the back of her mind that prolonged her first visit to the doctor.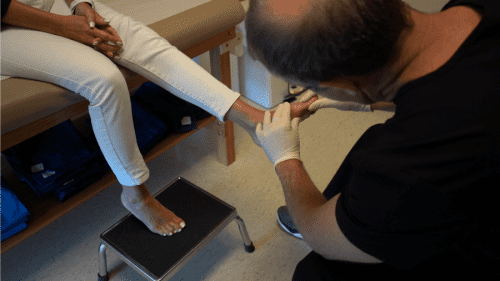 "The fear that kept me from having the surgery done sooner was, were my feet going to be worse than when I started, the scars, would I be able to walk, would I be able to exercise?" questions Tammy. "Being a nurse, I had high expectations of my surgery. I was able to look a little closer knowing a little bit more about the medical field, so my expectations were definitely higher."
But after surgery at Orlando Orthopaedic Center with Dr. Wiernik, Tammy says one of the biggest benefits of having the procedure done is simply being able to stand on her feet longer.
She even says her "expectations were exceeded" by both the procedure and by the staff at the Orlando Orlando Orthopaedic Center.
With her first bunionectomy, she quickly recuperated. The procedure was done in September, and Tammy was soon back to work with the help of her co-workers.
"My recovery on my foot that I did in September was a breeze," she says. "I was back to work within just a few weeks, I think it was three weeks I went back on a scooter and crutches. I was able to sit and I had my coworkers helping me out."
Tammy's second bunionectomy was a few months later, in December.
"I did stay out [of work] for the recommended full amount of time, to allow both feet to heal a little bit more," says Tammy.
While every patient's recovery time is different, the average bunionectomy recovery time is about six to eight weeks. During the first few weeks, patients will wear a surgical boot or cast to protect the foot while it heals from surgery. Full recovery can take an average of four to six months.
Why Should I Research Surgery Expectations?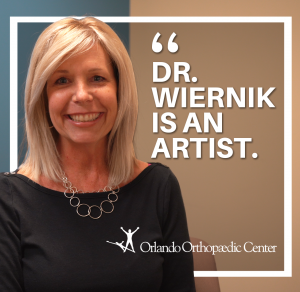 One of the most important tasks in any medical endeavor is taking the time to research both the procedure and all possible outcomes. But it's also important to research the doctor and staff.
"My recommendation would be to research your doctor and the staff, make sure you're comfortable with them," says Tammy. "…And follow the advice that the doctor gives you.
"Dr. Wiernik in my consideration is an artist. My interaction with the staff has been wonderful."
And don't forget — it's OK to ask questions along the way. Doctors and staff are there for the needs of their patients.
"In the beginning, I had a problem getting a scooter, and I felt like I bugged Gail," jokes Tammy, referring to one of Dr. Wiernik's team members. "She was very kind and helped me and got the scooter for me like I needed."
How Do I Know if I Have a Bunion?
While there are other causes of bunions than just narrow shoes, bunions can also be genetic. It is possible that they are inherited in those with particular characteristics of the feet.
Here are some common symptoms of bunions:
A visible bump on the outside of the foot
Inflammation
Numbness
Pain and soreness of the foot
If you are interested in treating existing bunions or think you may have a bunion, contact our team.