"Working with Dr. Riggenbach has made a really big difference in my life," says Robert, a recent patient of Michael D. Riggenbach, MD, a board-certified orthopaedic surgeon specializing in hand and upper extremity surgery at Orlando Orthopaedic Center.
"The best thing about my small tumor removal is that I can now hold a cup of coffee, take my dog for a walk, and ride my bike with no pain at all."
Few things can disrupt life more than unbearable hand pain – particularly when the discomfort stems from a tumor. The mass on Robert's finger impacted almost every aspect of his day. "I have a pretty long commute, so my hands are on the steering wheel for a couple of hours every day," says Robert. "You can imagine how uncomfortable that would be with a tumor on your finger. Starting and ending every day like that was something that was a quality of life issue."
Following several upper extremity reconstruction surgeries, Michael D. Riggenbach, M.D., a board-certified orthopaedic surgeon at Orlando Orthopaedic Center specializing in hand and upper extremity surgery, peripheral nerve surgery, and microsurgery, was able to help Maria return to living a normal life without compromise.
After researching different physicians and reading about other patients' experiences, Robert scheduled a consultation with Dr. Riggenbach.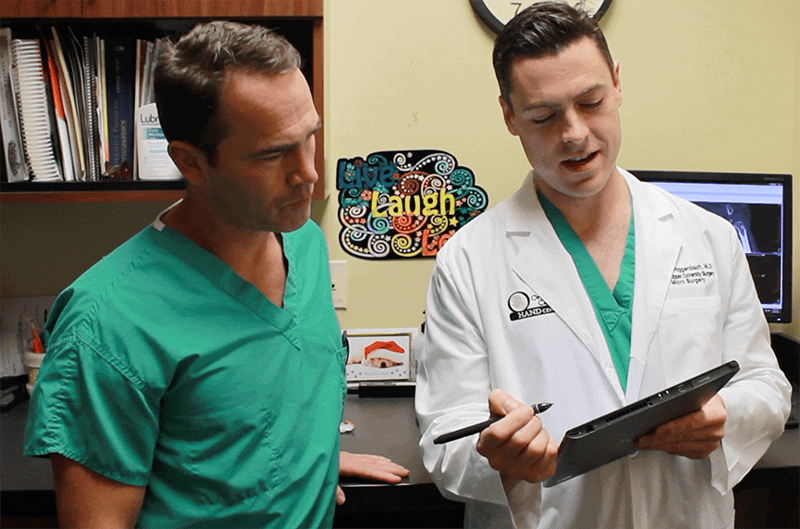 "In the beginning, I did my research, I found Dr. Riggenbach, and I liked what his previous patients had shared," explains Robert. "I decided to go with him, and I couldn't be happier. From the first time I made the phone call, I was greeted very professionally, with great courtesy and timeliness."
"Robert had a tumor on his finger, which was very painful for him," Dr. Riggenbach recounts. "When people hear of a hand or finger tumor, they might think of cancer, but fortunately, more than 95% of the tumors in the hand are benign or noncancerous."
The most common hand tumor is a ganglion cyst, a mass of tissue fluid frequently found in the joints of the hand or wrist. Giant cell tumors are yellowish-brown in color and arise on the underside of the finger, making it hard to flex the digit fully. The third type of hand tumor, a lipoma, occurs in fatty tissue.
Robert had full faith and confidence that Dr. Riggenbach would be able to treat his finger tumor and get him back to normal functioning. "Right from the beginning, I knew I made the right decision," says Robert. "And that was confirmed when I had my first appointment."
What Should Patients Expect from Hand Tumor Removal Surgery?
Surgery is normally the most successful treatment for removing a tumor from the hand, and the procedure can often be done on an outpatient basis.
Dr. Riggenbach was able to perform Robert's surgery with local anesthesia only, meaning Robert could avoid sedation and not need to receive pain medication from an anesthesiologist.
"We just numbed his finger, and once it was numb, we made an incision much like you would in a dentist's office," Dr. Riggenbach explains. "For that reason, Robert had a quicker turnaround time, and it was less expensive for him, as there was no anesthesia cost. And in some instances, you can drive yourself home."
Surgery is not the only treatment option for a hand tumor. Doing nothing or waiting to see how the tumor evolves are other options, but in his case, Robert felt surgery was the best course of action.
"I didn't feel any pressure to have the surgery," says Robert. "In my situation, Dr. Riggenbach told me I could leave it, we could watch it, or if it was something I wanted to take care of, they'd take care of it. I really appreciated that."
Not long after his surgery, Robert was back to doing the things he enjoys most like taking long walks with his dog, going for bike rides, and savoring his morning cup of coffee.
"I would absolutely recommend patients come in for a consultation with Dr. Riggenbach," Robert says. "His knowledge and his team's know-how, you get a lot of value from their experience and from his willingness to collaborate with others and bring in their opinions and assessments."
After his successful hand tumor removal, Robert is grateful for his return to full health and appreciative of everything Dr. Riggenbach and his team were able to do for him.
"I can't stress enough how good the overall experience was," Robert says. "Being a doctor, you're a team leader, and I felt like Dr. Riggenbach has done an excellent job of selecting and managing his team. It's more than just medical practice, it's picking the right people to be on your team and the trust they have in one another to take care of the patients."