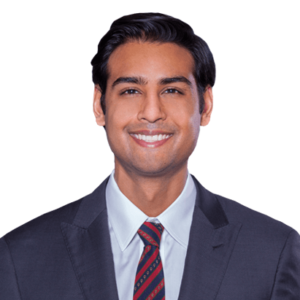 Ravi R. Patel, M.D.
Board Certified in Orthopaedic Surgery
Specializing in:
Minimally Invasive Surgery of the Spine
Cervical, Thoracic and Lumbar Spine Surgery
Adult Spinal Reconstructive Surgery
A native of Pennsylvania, Dr. Patel earned his B.S. degree from Pennsylvania State University as part of the accelerated pre-medical/medical program. He obtained his medical degree from Jefferson Medical College in Philadelphia, PA. He graduated cum laude and was elected into the Alpha Omega Alpha Honor Society.
Dr. Patel completed his orthopaedic surgery residency at the Emory University Clinic and Hospitals in Atlanta, GA. He then completed a spine surgery fellowship at the Harvard Combined Spine Program in Boston, MA. He served as associate surgeon at Harvard Brigham & Women's Hospital and Massachusetts General Hospital. In addition, Dr. Patel visited Beijing, China, for an international spine surgery observership at Peking University Third People's Hospital.
Prior to joining Orlando Orthopaedic Center, Dr. Patel worked as a staff physician and spinal surgeon in Newport Beach, CA. He has authored numerous peer-reviewed journal articles and textbook chapters. He is an active member of many professional organizations, including the American Academy of Orthopaedic Surgeons and the North American Spine Society.
Outside of his professional career, Dr. Patel enjoys traveling, running, racquet sports, and spending time with his family.
Dr. Patel Patient Success Stories