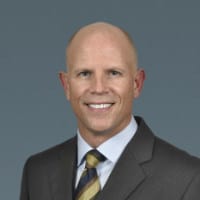 Thanks to advances in modern medical technology, many patients in Central Florida are now experiencing the benefits of having total shoulder replacement surgery in an outpatient setting.
Orlando Orthopaedic Center's Bryan L. Reuss, M.D., a board certified orthopaedic surgeon and sports medicine specialist, performs many of these outpatient procedures at the Orlando Orthopaedic Outpatient Surgery Center. The joint specialist says outpatient surgeries offer multiple benefits to patients in addition to going home the same day.
What Is Outpatient Total Shoulder Replacement Surgery?
Total shoulder replacement is generally presented as a treatment option for patients suffering from joint dysfunction as a result of osteoarthritis, rheumatoid arthritis or, in rare cases, a severe shoulder injury. Prior to surgery there is a conservative management period that involves physical therapy, cortisone injections, and oral medications to relieve the pain.
If those methods fail, a patient is considered for surgery. During the surgery, a small incision will be made on the front or top of the shoulder to access the shoulder joint.
"The head of the humerus or 'ball' of the joint will be removed and replaced with a round metallic implant, while the glenoid or 'socket' will be replaced with a new, plastic socket," says Dr. Reuss. "This replaces the painful bone-on-bone rubbing a patient feels with a painless metal-on-plastic articulation."
What Is the Recovery for Outpatient Total Shoulder Replacement Surgery?
According to Dr. Reuss, recovery for most patients is completed within three months from the date of surgery. Because much of the rehabilitation process will take place at home, patients are urged to establish a close-knit post-op support group prior to surgery.
"The ideal patient needs to be healthy, motivated, well-informed, and fully-prepared for a home recovery," says Dr. Reuss. "Having a good support system – friends and family – at home is imperative.
What Are the Outpatient Benefits to Patients?
According to Dr. Reuss, patients are the major benefactors when it comes to having a total shoulder replacement done in an outpatient setting. Although not all patients will meet the requirements to have the surgery done in the outpatient setting, those who do usually elect to undergo this minimally-invasive route to recovery.
"The outpatient setting is generally a more safe, convenient and less stressful environment for patients," says Dr. Reuss.
Other benefits to patients include:
Returning home the same day as surgery, compared to several days in the hospital with an inpatient procedure.
Easier access – entering, checking-in and checking-out at an outpatient center is often easier than at a hospital.
Decreased risk of infection.
Increased comfort as a result of performing rehabilitation almost exclusively at home.
Reduced recovery time due to the minimally invasive nature of the procedure.
Quicker return to recreational activity.
"Patients who have their surgery performed in an outpatient setting experience numerous short-term benefits without sacrificing any long-term results," says Dr. Reuss. "It's easy to see why this is the preferred option for patients."
Originally Featured in the April 2013 edition of FloridaMD Magazine.