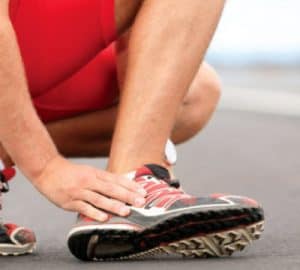 Footwear manufacturers are marketing shoes that claim to help customers increase lower body muscle tone and burn calories during everyday activities by simply wearing the shoes. The design of the shoes features a rocker bottom and negative heel or an engineered ball in the sole of the shoe that creates micro-instability. The instability may force muscles to work harder and result in increased tone while burning more calories.
How is Toning Footwear Designed?
The footwear designers claim the shoes work by putting the body off balance or making muscle groups work harder as if walking in sand. The heel is set slightly lower than normal shoes, and the bottom of the shoe is curved, so muscles are said to be constantly working to keep you balanced and centered. Also, the shoes make claims to improve posture and blood circulation and reduce knee joint stress.
Toning footwear products represent the fastest growing segment of the footwear industry, with sales expected to jump fivefold to $1.5 billion this year, the Boston Globe reports. In the first four months of 2010, toning footwear sales were at $252 million, which is 75 percent above all of last year's sales, Business Week reported. Most of these shoes sell for between $50 and $100. This is a big business.
Are these Claims Valid?
Joseph D. Funk, D.P.M., and Daniel L. Wiernik, D.P.M., podiatrists affiliated with Orlando Orthopaedic Center, were interviewed regarding the claims these footwear manufacturers make.
Dr. Funk and Dr. Wiernik are both Diplomats of the American Board of Podiatric Surgery, members of the Florida Podiatric Medical Association, the American Podiatric Medical Association and the American College of Foot and Ankle Surgeons and are both Board Certified in Forefoot and Reconstructive Rearfoot/Ankle Surgery. Both podiatrists specialize in foot and ankle surgery.
Both doctors are aware of these shoes and their claims. They report that many patients in their practice have tried them for multiple reasons, and most speak very highly of them. Although they may provide some toning effect, they should not be used as a first-line treatment for weight loss. These shoes are expensive, and they do not help everyone.  Both doctors agree, "It may be beneficial to speak to your doctor before purchasing a pair if you suffer from a significant medical condition."
The podiatrists confirm that the micro-instability caused by the roller bottom can increase energy expenditure, calorie burning and increased toning of the calves, hamstring, and buttock areas. Dr. Funk notes, "Most people of significant physical fitness do not notice much change with these shoes. More sedentary non-fit patients typically will notice some soreness in the affected muscle groups after wearing the shoes."
Shoe manufacturers have received positive reviews from all types of people. Pregnant women, customers with knee replacements, fused spines and foot problems are among those rave reviewers.
Can These Shoes Hurt You?
Dr. Funk has not seen any complications, fractures or tendon injuries from use of the shoes. He does clarify, however, " There are two basic populations of patients that should not wear the shoes. The first of which are patients with structural deformities of the back, which are not reducible. The roller bottom shoe does result in instability and constant rocking and straightening of the spine. If the spine cannot straighten via structural pathology, this could lead to more problems for these back patients."
A simple lower back strain or muscle condition can usually tolerate these shoes quite well. Another patient population he suggests should consider avoiding the shoes are chronic Achilles tendinitis patients. The constant firing of calves could lead to increased Achilles tendinitis.
The shoes are specifically designed for walking. Marketers claim they are safe to use on hills, treadmills, elliptical machines, low-impact gym activities and even driving. It is not recommended to use the shoes for high impact aerobics or running. Dr. Funk does caution, "Caution should be used wearing the shoes on uneven terrain because of the lateral instability potential." He also advises, "The shoes should not be worn for lateral motion sport. The shoes should only be used for straightforward activities."
Many patients who stand or walk for prolonged periods of time as teachers and nurses love these shoes. Even servers in restaurants report that the shoes are comfortable and supportive to wear while working long shifts on hard, uncomfortable surfaces. These workers report pain free shifts. Dr. Wiernik adds that "Some people may benefit from improved posture because they need to concentrate more on balance when walking in these shoes."
Both doctors do not find any specific brand to be superior. Both the doctors and marketers of the shoes agree. The shoes may offer benefit to some people, but it is recommended to consult with your doctor to see if the shoes are appropriate especially if you have the specific medical condition.
Originally Published in Florida MD, Oct. 2010